SEED SPOT is launching an Impact Entrepreneur Meet-Up, a free monthly education program for impact entrepreneurs, tech leaders, and future founders. Designed to increase access to resources, networks, leading investors, and service providers for entrepreneurs in Phoenix and Washington, DC, the Impact Entrepreneur Meet-Up is a 90-minute meet-up and workshop hosted on the third Friday morning of every month. SEED SPOT incorporates intentionally-crafted curriculum that guides conversation and provides innovators with the building blocks needed to grow sustainably.
The Impact Entrepreneur Meet-Up provides an open and free forum for founders to access top-tier lessons from SEED SPOT and leaders in entrepreneurship. To provide optimal support for entrepreneurs, SEED SPOT is partnering with a number of organizations, including the Arizona Founders Fund, WeWork, Verizon 5G Labs, Amazon Web Services, Impact Engine, Booz Allen Hamilton, and others. 
The first Meet-Ups will take place in both Phoenix and Washington, DC on Friday, September 20 from 8:30am – 10:00am. In Phoenix, Kirk Morales, SEED SPOT Mentor and Co-Founder / CTO of Persosa, will be leading a session on how to launch an application without a technical co-founder. In Washington, DC, Elizabeth McCluskey, Principal at Impact Engine, will be teaching attendees how to form, nurture, and leverage meaningful relationships with impact investors.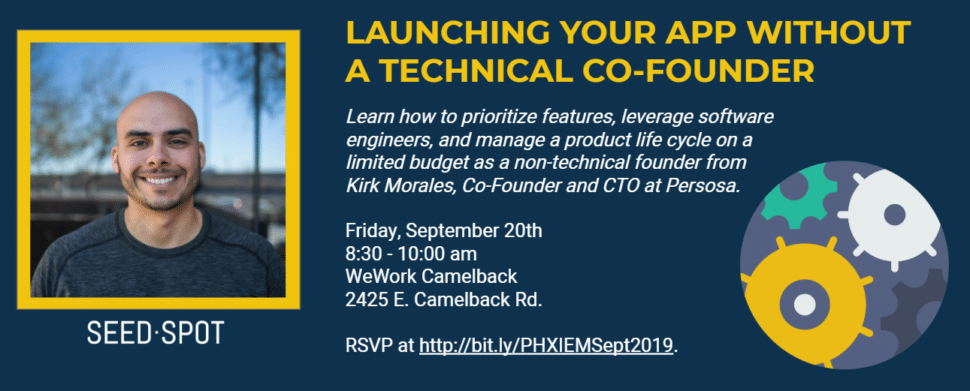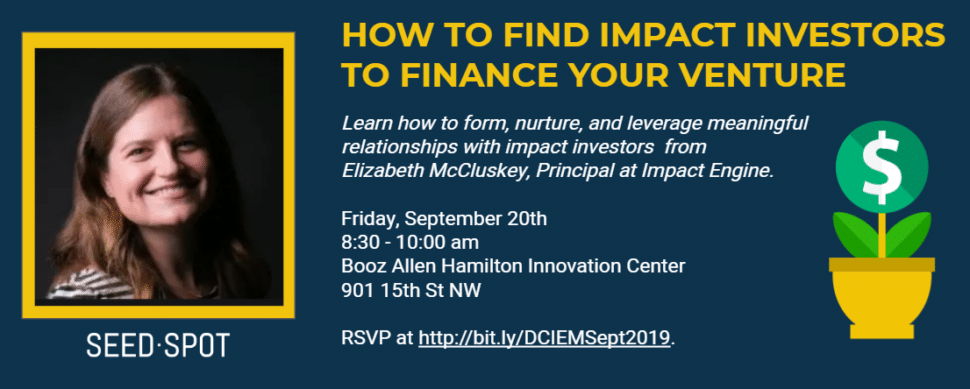 "In order to impact the entrepreneurship ecosystems in Phoenix and Washington, DC and ensure each entrepreneur has the opportunity and space to launch, develop, and cultivate their dream, we are excited to introduce the Impact Entrepreneur Meet-Up," said C'pher Gresham, CEO of SEED SPOT. "Through our partners and experts, each founder with an idea or a growing startup can have access to top rated support and a community of like-minded founders."
The Impact Entrepreneur Meet-Up complements SEED SPOT's other program offerings – the 2-Day Launch Camp and 8-Week Impact Accelerator. While all three were developed to support impact-driven entrepreneurs, the Impact Entrepreneur Meet-Up provides an ongoing opportunity to form valuable relationships, leverage the expertise of industry leaders, and learn new skills.
Limited space is available for the first Impact Entrepreneur Meet-Ups on September 20. To attend the Phoenix Meet-Up at WeWork Camelback (2425 E Camelback Rd), register HERE. To attend the Washington, DC Meet-Up at the Booz Allen Hamilton Innovation Center (901 15th St NW), register HERE.
To explore launching an Impact Entrepreneur Meet-Up in your community, please express interest HERE.