By: Bianca Buliga, Senior Marketing Manager
It's that time of year – we are officially recruiting impact-driven entrepreneurs for our Impact Accelerator running from January 27 – April 14, 2020!
Founders will be guided through building high-growth business models, creating a winning team, crafting strong go-to-market strategies, modeling financials, and nurturing investor relationships. Each founder will have the opportunity to pitch at an invite-only accredited investor event. Ultimately, entrepreneurs will pitch to win cash and other prizes to help grow their business at a community-wide Demo Day. Unlike many other accelerator programs, founders retain 100% equity when participating in SEED SPOT's Impact Accelerator.  
Our team has run a number of programs in Washington, DC supporting founders from idea to scale. Partnering with organizations like Booz Allen Hamilton, the Association for Women in Science and Capitol Post Our Impact Accelerator specifically provides support for more established entrepreneurs that can demonstrate traction and need help with raising capital, securing legal advice, seeking PR opportunities, and gaining insider knowledge from a wide range of content experts in SEED SPOT's global network.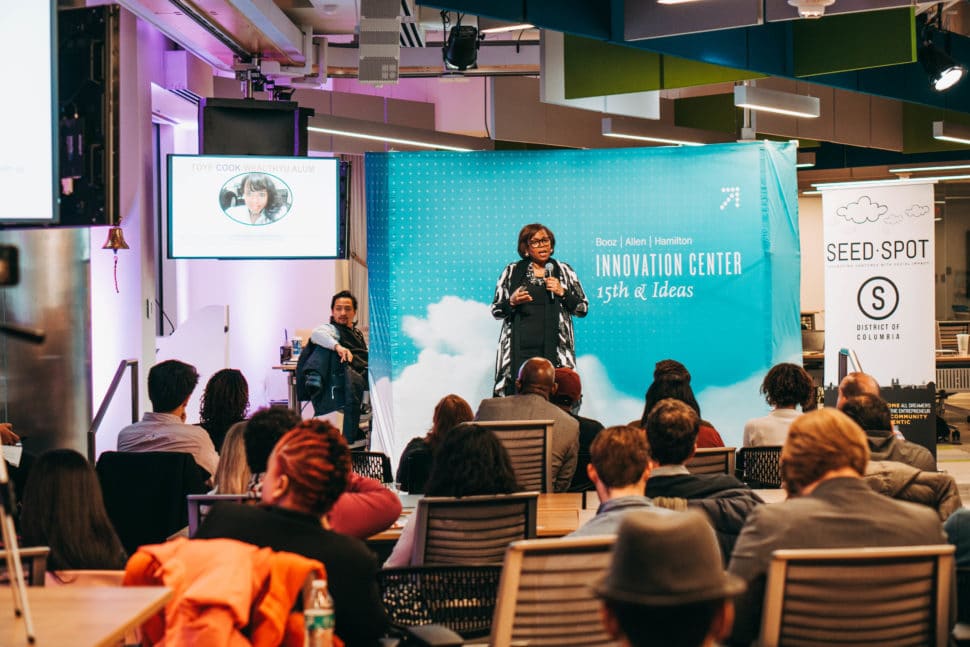 "Through the Impact Accelerator, entrepreneurs are able to concentrate on the growth of their impact-driven startup, meet investors, and ultimately see their venture scale to make more positive change in the world. By investing in the greater Washington, DC impact economy, we will be able to help solve regional and global issues," said C'pher Gresham, CEO at SEED SPOT.
Ben Pugh, founder of Haven, and Renee Dunn, founder of Amäzi Foods, are both SEED SPOT alumni that have gone through the SEED SPOT Impact Accelerator program. Since their time on the big stage at Demo Day, they have been scaling operations, training new staff, preparing for a national launch, and have won major pitch competitions.
The program will meet twice weekly in downtown DC. For the culminating event, Impact Accelerator participants will pitch their ventures on stage in front of hundreds of DC startup community members. Demo Day will be held at the Woolly Mammoth Theater on April 14.
The early consideration deadline (which guarantees applicants an interview with a selection committee) is on Wednesday, October 2 and applications will be accepted until the final deadline of Friday, November 1.
SEED SPOT has served 557 adult entrepreneurs across the country, 75 percent of which identify as underrepresented founders. These change makers have raised $30.5 million in capital, generated $54.5 million in revenue, and have positively impacted 4.2 million lives. Join the ranks of impressive SEED SPOT alumni by submitting your application HERE.