By: Madeleine Bedard, Digital Marketing Intern
Did you know that approximately 71 percent of consumers are more likely to make a purchase based on a social media reference? Social media is a great way to grow your business's following while simultaneously creating brand recognition and customer loyalty.
Why not leverage the strong relationships you already have with your community to digitally engage followers and build a more robust donor pipeline? If you're stuck in a rut and unsure how to expand your business's social media presence, you've come to the right place! Here are some simple tips and tricks to get started:
1) START WITH GOALS YOU KNOW YOU CAN HIT
Before you start posting, take time to draft realistic goals that function as your north star. Posting without goals and timing in mind can result in random and inconsistent posts that drives away your target customers.
When setting goals, consider:
Educating your followers on what you do

Increasing customer engagement through interactive posts

Generating leads by creating simple follow-up opportunities
After establishing a set of concrete, time-bound, and realistic marketing goals, create a plan around executing:
Who will lead the charge on publishing?

How often will you post?

What time of day will you post?

What content will you pre-write?

What images will correspond with that content?

What other businesses will you partner with to share your content?
Most importantly, determine what metrics you want to track to measure progress. You can measure the number of new followers, the number of likes a post gets, or the number of times a post is shared by your target audience. Even posting consistently is a goal that you can work towards!
2) BE PICKY WITH YOUR PLATFORMS
Did you know that 86 percent of small businesses have a Facebook account? This is a great way to get started since Facebook is still the fastest-growing social media platform for ALL age groups. While having a Facebook profile helps put your organization on the radar, there are other platforms you need to consider utilizing to expand your following.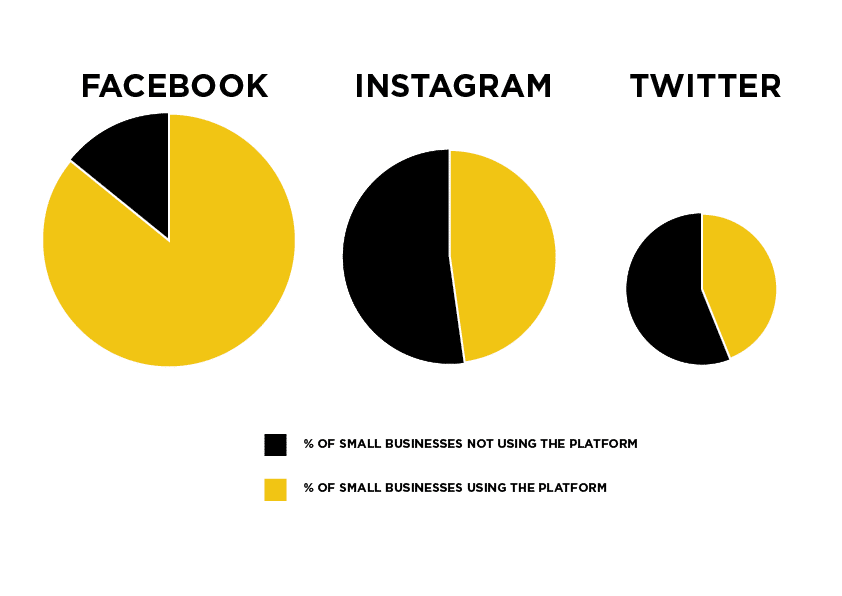 Only 48 percent of small businesses have Instagram accounts and only 44 percent have Twitter profiles. Did you know that some businesses even use Snapchat? While this is notoriously tricky to master, 71 percent of Generation Z uses Snapchat 6+ times a day! Be mindful of your target audience and make sure to use the same platforms as them – you don't need to be on all of them!
3) TIMING IS EVERYTHING
While time-consuming, content creation can be the most creative and rewarding part of your social media strategy. Just 52 percent of small businesses post on social media daily, and others post just once a month! Creating interactive and informative content lets social media users know that your brand is active and engaged. To ensure maximum engagement, research when is the best time to post so you can plan your posts intentionally.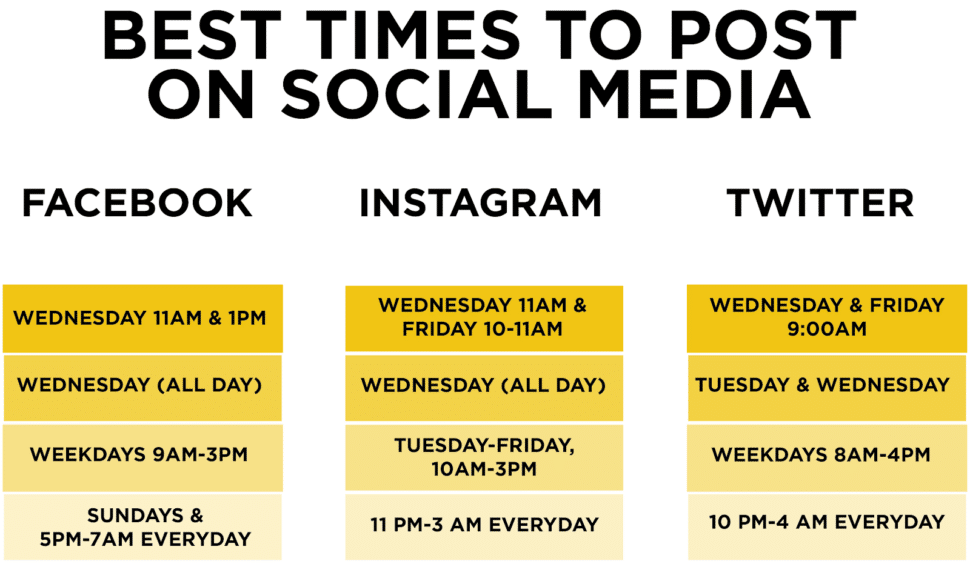 Instagram sees the highest amount of use on Wednesdays at 11:00AM and Friday from 10:00-11:00AM, with Wednesdays being the best day to post. The least amount of engagement occurs from 11:00PM-3:00AM every day.

Facebook has a similar engagement schedule. The best times to post are Wednesday at 11:00AM and Friday at 1:00 PM. Wednesday is the best day to post overall, although any week day from 9:00AM-3:00PM is a safe bet. Early mornings and evenings see the least amount of engagement.

On Twitter, aim to post on Wednesday at 9:00AM or Friday at 9:00AM. Tuesdays and Wednesdays are generally the best days to post, while Saturday sees the lowest engagement.
4) SHARE THOUGHTFULLY AND INTENTIONALLY

While timing is important, the content of your posts is arguably even more important. If you need inspiration, here are some ideas:
Advertise products, events, and promotions (even if they're a partner organization's!)

Share new content from your website, blog, or newsletters

Share videos that explain your organization's mission, work, and goals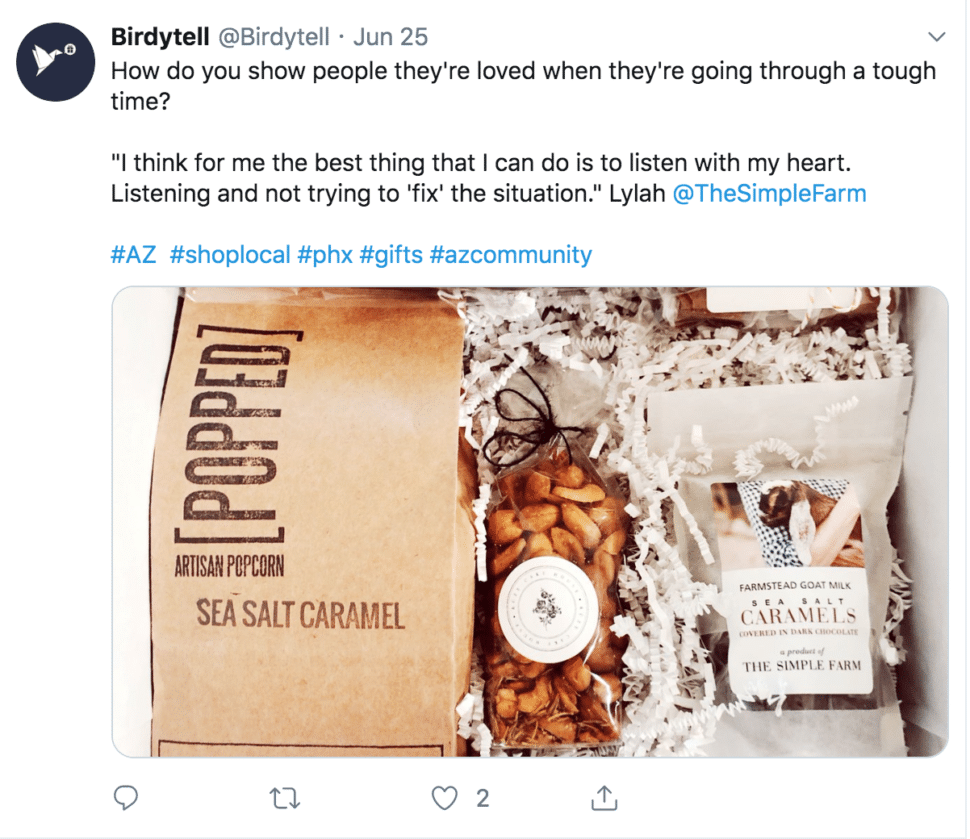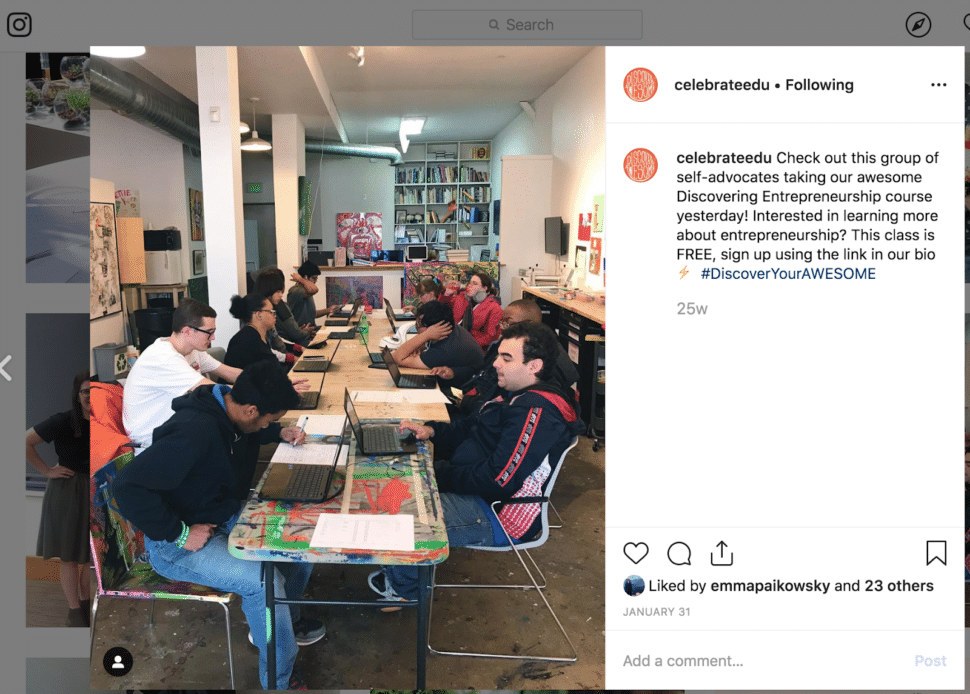 More than 1 in 3 Internet users say they go to social networks when looking for more information about a small business. This is because businesses and organizations are likely to offer promotions, information about their product, direct communication, and entertainment through their social media accounts. Social media accounts are essential for startups, small businesses, and nonprofits. Don't procrastinate – refresh your marketing plan and get to posting! Trust SEED SPOT to help build your business's branding and marketing plan by registering for an upcoming program near you.