By: Corinn Perry, Chief of Staff at SEED SPOT
Happy National Entrepreneurship Week! Did you know that the rate of new entrepreneurs over the past 20 years is essentially flat?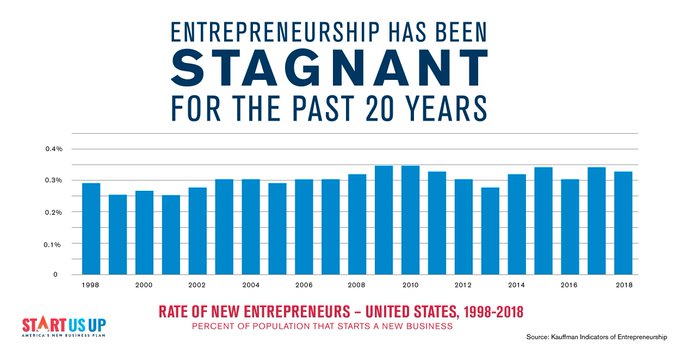 Entrepreneurship is the backbone of America and is a direct contributor to economic growth, job creation, and the creation of innovative solutions. National Entrepreneurship Week (#NatlEshipWeek) is a congressionally-chartered initiative founded in 2006 that celebrates the creative efforts of entrepreneurs and small businesses, recognizes the positive impact they make in local communities, and encourages the nation to reinforce policies that allow entrepreneurs to advance their business dreams.
Here are three easy ways to finish National Entrepreneurship Week strong (and celebrate entrepreneurship all year long)… without leaving your desk chair:
1) Advocate for Entrepreneurs 
Learn about how to advocate for entrepreneurs in your city, state, or nationally at Start Us Up Now. The time is now to make entrepreneurship a national agenda item. What happened to the American Dream? Entrepreneurship has remained flat for 20 years. Policymakers continue to prioritize big and established businesses, not the new businesses that drive economic growth for the US. Learn more about tactical ways to engage policymakers here: https://www.startusupnow.org/
2) Get Engaged by RSVP-ing for Upcoming Events in Your Area
Here are a few SEED SPOT is hosting in Phoenix: 
February 25-26, 2020: 2-Day Launch Camp for Women in STEM
February 28-29, 2020: 2-Day Launch Camp (in Mesa, AZ!)
March 12, 2020: Impact Accelerator Kick-off at the Churchill
And in DC: 
February 27, 2020:  Venture Thursday 
April 24-25, 2020: 2-Day Launch Camp
April 14, 2020: Demo Day at the Woolly Mammoth Theater Company
3) Donate to an Entrepreneur or Entrepreneur Support Organization: 
Donate to a micro-loan via Kiva that goes directly to supporting entrepreneurs in 77 countries including the United States!  
You can also donate to impactful Entrepreneur Support Organizations like:
Halcyon: supporting early-stage entrepreneurs creating sustainable social ventures. 
Black Girl Ventures: creating access to capital for black and brown women founders. 
The Center for Entrepreneurial Innovation: a full-service business incubator that supports emerging technology companies in the bioscience, medical device, and green technology industries.
Chicanos Por La Causa: an advocate for underserved individuals and communities who encourage entrepreneurs to succeed with small business lending. 
—
Thanks for all you do to champion problem solvers and make their dreams a reality!