Working from home until further notice? Us too. But just because your team is physically distanced, it doesn't mean you need to put the impact and planning on hold.
Critics of the work from home movement argue that companies will lose their identity, culture and miss the lack of social interactions. Though nothing can replace the energy and connection of going out to happy hour with coworkers or celebrating a big milestone with a high-five, there are little things you can do in the meantime to create opportunity for your team to collaborate on your company's big mission.
Keep these tips in mind as you plan a virtual team retreat to bring your team together to align, plan and energize,
For more resources and examples of virtual retreat content, be sure to check out our free ebook at the end of the blog!
The Basics
Utilize a video meeting platform (we use Zoom!) that allows your team to see everyone on screen at once. Make sure that everyone has a camera set up so that you can see faces and reactions throughout the day. This also ensures that people are present, focused, and able to listen at their best.
Encourage your team to set email and chat "Out of Office" responders and to silence their notifications on other communication platforms. This decreases email distraction and keeps conversations outside of the retreat to a minimum.
If your team is new to a remote environment, set some ground rules such as "stay on mute until you are ready to speak," or "turn your camera off if you have to step away." These digital housekeeping rules will help the meeting format flow efficiently and smoothly.
Build in LOTS of buffer time – at least an hour over the course of the day. You never know when a discussion will really take-off to inspire the group so be sure to keep space for that in the agenda so that you don't end up keeping people online for longer than they need to be. Worst comes to worst, you get out early!
Be Mindful of Time Zones
Where is everyone located? Unless you are all in the same city, be sure to consider different time zones across the country to ensure that you are activating people at an appropriate time of day. An 8am start time in New York just isn't going to work for your teammates in California!
Peak communication hours between 12 pm Eastern and 5 pm Eastern ensure that any other time zone in the US you are planning for is joining the meeting within traditional business hours. Plan breaks accordingly as well – a 12 pm Pacific lunch time is great for the west coast, but remember that means that your East coasters will probably be eating a little bit earlier. Be sure to plan plenty of 20-30 minute breaks to make sure that folks can grab food/snacks and enjoy them while they focus.
Utilize Google Calendars to time-block the different days and ensure everyone shows up on time and at the right link. Utilize an agenda that shows the time zone of each participant to help them better plan their day and set expectations.
Here is a sample agenda that you can download and use to plan a successful retreat. Using this format, we received feedback from 100% of attendees that this virtual retreat was a good use of time and important to our mission at SEED SPOT.
Prevent Virtual Fatigue
When a retreat is in-person, there are more opportunities for 1:1 connection time and natural communication. Staring at screens can be very physically taxing, causing headaches and eye-dryness. Plan to have your team spend a maximum of 5 hours on your digital format, and be sure that they are empowered to close their laptop before and after the retreat. Coming into the meeting with fresh eyes and not after answering hours of emails is key to keeping energy levels up!
Utilize trivia icebreakers with polling tools like Poll Everywhere to quiz your team on fun facts about the organization or their coworkers to build community and connection.
Use Zoom Breakout Rooms to put team members together to work on small group creative projects.
Ensure everyone has the opportunity to present or speak. Hearing the same voices over and over can reduce information absorption and cause even more fatigue. Play music in the background during breaks so that participants have the ability to break through the monotony!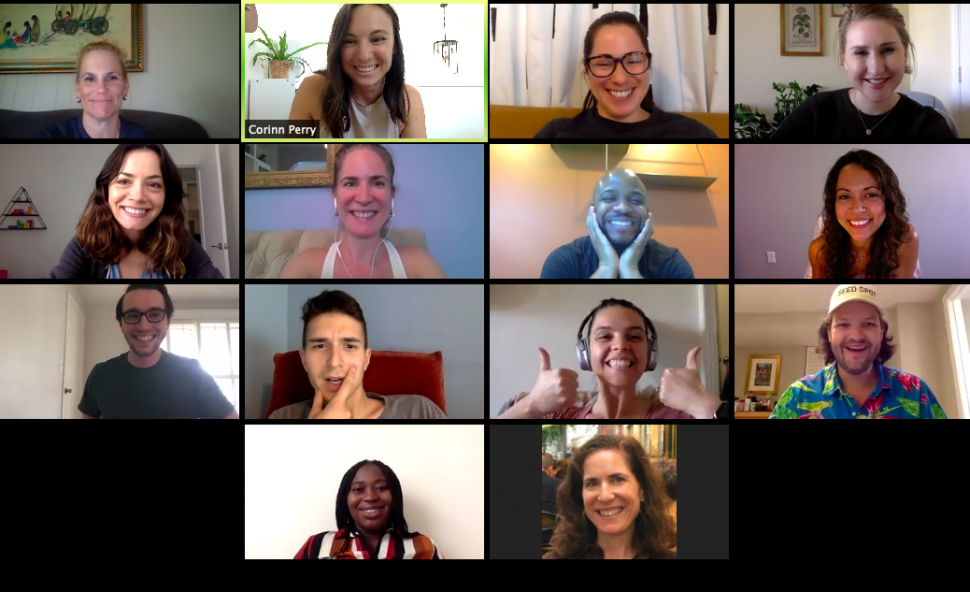 Build in Exercise and Movement
And eyes moving across a screen DON'T count! Over 4-5 hours of being on a zoom call in a static position, especially in a meeting format can mean that your team is tired. Find ways to keep them moving throughout the day through frequent breaks and physical activities. Companies like W.O.W. have designed chair based, accessible exercises that your team can do without leaving the retreat format! Contact Justin with W.O.W. to create a customized chair based workout for your team.
Many yoga studios also offer free, live-streamed classes. Once the day is over, set up a yoga video for your team to watch as they stretch and decompress after a long day.
Watch this webinar to learn more about frequent injuries to consider when working from home and learn how to prevent them.
Acknowledge the space your team is in
In the time of COVID-19, many of your teammates may be at home with children, pets, partners or unreliable/unpredictable internet. On top of that, individuals may be feeling additional stress and pressure by external social factors in the news cycle and in their communities. Be sure to acknowledge these barriers, and let team members know that they can take a break if they need to. Also let them know that if a pet or child joins unexpectedly – it's ok! This is all a part of creating an inclusive and accepting space to focus on organizational goals, but also acknowledge that an organization is nothing without its people.
Send along a pre-retreat care package with snacks, tea and a note of encouragement to help give your team a tangible takeaway and a physical memento to unite them even though they are far apart. We recommend Birdytell for custom boxes delivered right to your team members' doorstep filled with local snacks, goodies, and trinkets.
Measure and Reflect
Once your retreat is over, send a follow-up survey using a free platform like Google Forms or Jotform to get feedback from your team! What did they like/not like? How could it be improved next time? Does anyone have any follow up questions?
Here is a sample survey that you can download and use to poll your team post-meeting or retreat.
Be sure to take your team members' feedback, read it, and acknowledge any questions that they have. Use their feedback and suggestions in the next virtual meeting you have, or better yet, have them lead it!
Using these tips you can experiment and design a virtual experience that leaves your team feeling energized and unified, even after multiple hours of screen time.
More resources
Download Virtual Retreat Resources