By: Bianca Buliga, Content Curator
The sad and scary truth? Not all business ventures succeed. In fact, about two-thirds will survive two years, half will survive five years, and one-third will survive ten years. So, how can entrepreneurs move past these sobering statistics and stay dedicated to the cause they voluntarily risked health and wealth for?
You may know John B. Johnson as SEED SPOT Phoenix's Operations Manager, venture supporter, logistics wizard, and multitasking extraordinaire. The youngest of four siblings to a single mother, John graduated from Kent State University with an MBA and Masters in Architecture. Before joining SEED SPOT in September, John experienced the tumultuous journey many entrepreneurs consider a taboo topic: starting and failing to launch a venture.
"This could be something special"
Rewind to January of 2014. John was transitioning from a career in architecture when a friend and soon-to-be co-founder contacted him about leading a new project. Over lunch, they discussed the building of an educational facility that connects people in a co-working space. With John's interest piqued, the two men decided to create an app that would allow users to walk into a space and virtually connect with everyone else there instantly.
John clearly remembers thinking "this could be something special". However, the realities of implementation set in quickly. Why would complete strangers want to sit at the same tables, let alone engage in discussion? To address these gaps, John and his co-founder mapped out idea after idea, eventually realizing the recurring intention was to empower individuals to "feel free" while engaging with others. With this moment of clarity, the app Feel Free was born.
"You have NO idea what you're doing"
As John and his co-founder developed the app further, they toyed with different methods of connecting people. Their first idea involved walking into a space, seeing a 3-D floor plan, and reading descriptive bubbles above people's heads, much like a live action Sims game. With time, they realized the complications and costs that associated with that idea.
To refine the idea, John and his co-founder sought out feedback from their friend Zach Ferres, CEO of startup studio Coplex, only to be met with "you have NO idea what you're doing". Their friend refused to continue the conversation until John and his co-founder mastered the basics of building a business by reading "The Lean Startup". Feeling motivated, John and his co-founder read the book within two days and built their Minimum Viable Product (MVP) with Zach's guidance.
"96% of people enjoy talking to a stranger"
To start accumulating data, John and his co-founder went to a downtown Phoenix café to set up an experiment. As consumers trickled in, they would choose a random card and sit down at a table to answer icebreaker questions with others who had chosen the same color card. The vast majority of people deeply enjoyed these conversations and didn't want to leave the café!
A similar event at a local art show empowered 60 people to take a glow necklace and join the Feel Free movement – meaning they'd engage with others wearing the same glow necklace. After administering surveys to the participants, John discovered that 96% of people enjoyed talking to strangers and 75% would love to replicate this movement through a mobile app.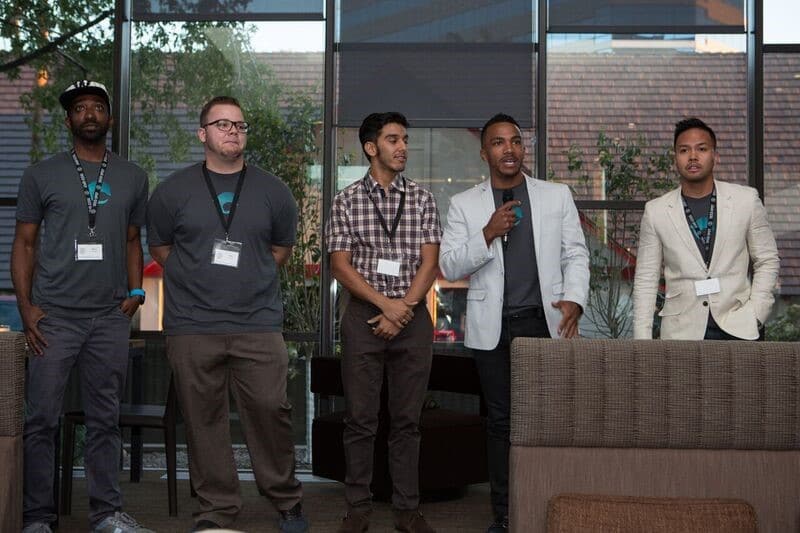 The momentum was building – Feel Free applied to top 20 global accelerator SEED SPOT and was accepted to the Fall 2014 program. John and his co-founder built a team and prototype, accumulated international followers and users, and launched the first version of their app at DEMO DAY in front of over a thousand people. After building a complete mobile app and nearly landing their first big investment, things suddenly spiraled out of control.
"I was working 80-100 hours a week and could barely pay my bills"
Throughout this process, John was committed to growing Feel Free and making it profitable. By the end of summer 2015, he was working 80-100 hours a week building a business model, making financial projections, and campaigning for a worldwide launch. The catch? John wasn't yet making any money. He was struggling to pay his bills and to support his new fiancé.
He also couldn't shake the feeling of putting in 80-100 hour weeks and still not having the decision making power to decide where the company was going. This feeling left John feeling frustrated and alone. After giving his co-founder the ultimatum of stepping down from a leadership role, John realized this was the end of Feel Free. "I self-sabotaged the situation. We were so close to success and a $200,000 investment, but power, greed, and impatience got in the way. I wanted the success so badly, but didn't realize that I wasn't ready for it. If I was ready, we would have found success".
"I walked away"
John and his co-founder turned to SEED SPOT mentor Terry Mullane for co-founder mediation. After a month, John and his co-founder concluded that moving forward wasn't an option. With a heavy heart, John walked away. "I went to my lawyer and washed my hands of it – it was causing a lot of stress and I still wasn't making money".
John turned to his fiancé (now wife) for support. To move forward, John got involved with another startup, which was a mistake. "It was essentially a rebound relationship. I left the first startup that I spent a year and half building credibility and connections with, and channeled that momentum into an unrelated startup. It only lasted about three months."
John's biggest regret? Experiencing a hit to his reputation after leaving the second startup so quickly. "The community started to question my commitment and loyalty, which was hard because I pride myself on my integrity". All the ups and downs in his journey taught him the importance of protecting his network above all else.
"I have complete happiness and fulfillment"
John didn't allow these challenges to stop him. He put his head down, focused on himself, and rebranded himself personally and professionally. He found an opportunity to begin fresh with SEED SPOT as Operations Manager for the Phoenix office, and has since committed himself to advancing SEED SPOT's mission of making an impact. "I've found an organization that I could spend the rest of my life with, and I feel complete happiness and fulfillment in what I'm doing."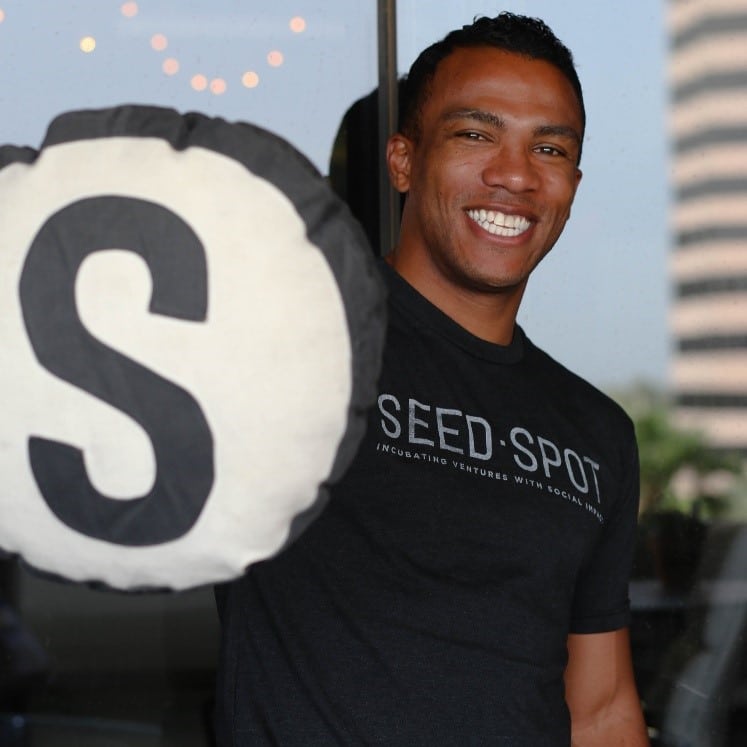 When asked whether he'd start another venture one day, John replied "I'm not even thinking about another venture because I'm too focused on growing SEED SPOT. I would consider developing products within the SEED SPOT model to enhance our impact. I now know what it takes to build a startup and break that initial barrier – I'm not as naïve as I was three years ago. But I'll do it right with a solid idea, a great team, and the resources to make it possible."
Any last advice for aspiring entrepreneurs? "Don't be afraid of failure. If you fail once and do the very same thing again expecting success, you didn't learn anything. Look at failure as a learning experience that pushes you towards great opportunities to make an impact."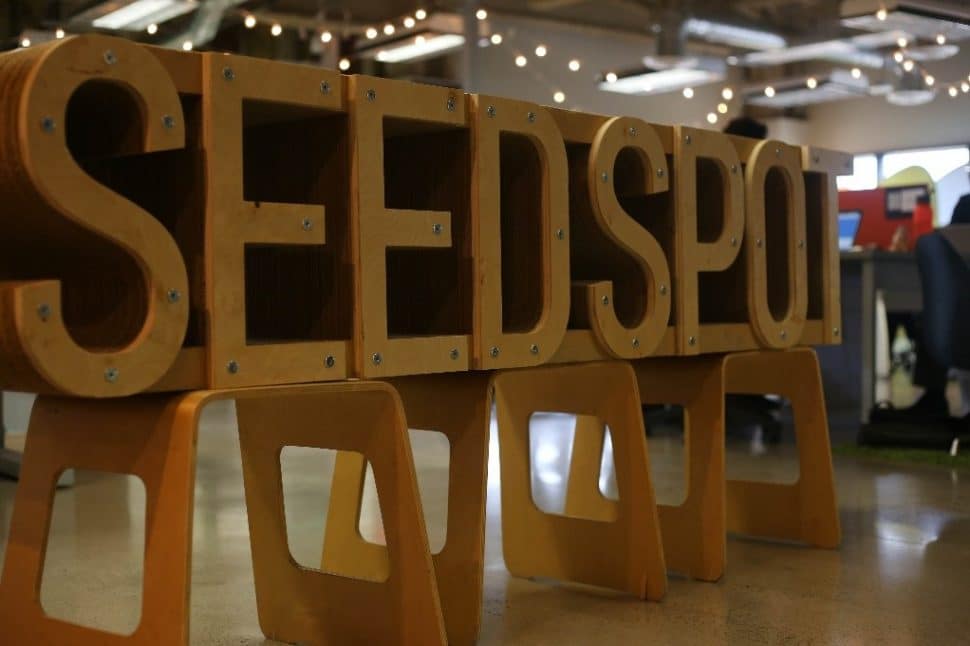 Start your entrepreneurial journey today.
---
Related articles about SEED SPOT Entrepreneurs:
>>"Kirk Johnson: 'Don't Be a Cute Kid, Be a Professional Musician"
>>"Lisa Morrow: 'It's Okay Not to Have All the Answers"
>>"KYA's Got Your Back: Breaking Down the Barriers Social Media Put Up"