By: Bianca Buliga, Digital Marketing Manager
Last week, you learned all about how to deliver your three-minute pitch in a way that would make hundred dollar bills rain from the ceiling. This week, we're taking it to the next level: how to pitch your venture to a reporter and become front page news!
We can only imagine the stresses journalists face on a daily basis, from impending deadlines and nagging editors to endless cups of coffee and overflowing email inboxes. However, connecting with reporters can be a huge opportunity to promote your venture and share updates with a larger audience.
Our full-time D.C. cohort recently had the opportunity to sit down with three journalists from well-known publications in the DMV region: Sam Sabin, Reporter at DC Inno; Tajha Chappellet-Lanier, Technology Reporter at FedScoop (formerly of Technical.ly); and Andy Medici, Staff Reporter at the Washington Business Journal.
Each reporter brought their personal experience to the table, and gave excellent advice about reaching out in a professional, intriguing, and effective way. In fact, I decided it was too excellent not to share with the SEED SPOT community…
Do Your Research
"Before you pitch us, realize that there are 43 business journals across the nation. Think about whether we're the appropriate location or publication to be covering this pitch," says Andy.
If you're opening a new location in Chicago, it might be best to connect with publications located in the Chicago area. If you're looking to hire in Seattle, do a quick Google search to see which Seattle publications will most efficiently reach the audience you're targeting. You can also sign up for email newsletters from multiple publications to get a better idea of the content they gravitate towards.
Sam's input? "Get my name right!" Never hurts to go over the basics.
Eye-Catching Subject Line
A reporter's first impression of you and your venture is the email subject line. Avoid all caps (aggressive much?), use professional language, and be up front about your intentions in sending the email.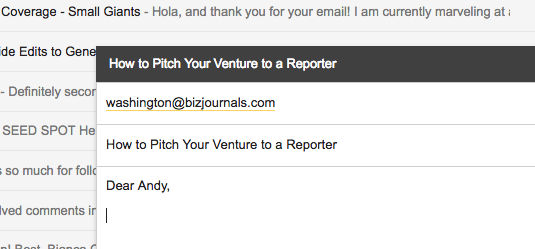 Avoid Tangents
Reporters have a finite amount of time in their day – they won't spend it fishing through your emails for the important stuff. Andy's advice is to "write your pitch to a person – we don't like robotic pitches that are super general."
Tajha recommends to view the process as a teaser for your pitch – "I like to see a good subject line that is eye-catching, a short email, where you're based, and an interesting pitch." The local angle can be imperative in getting a response, especially if you're bringing information to the table that hasn't been covered by a publication's competition!
Andy insists the key is to "prove your startup is cool in an immediate way." You can do this by naming notable customers, mentioning the impressive milestones you've achieved, or name-dropping the executives who have joined your Board of Directors.
Another way to provide credibility? Include hyperlinks to your website, other articles written about your venture, or press releases that provide validation and easy-to-find research. This proves that you're building momentum within your industry and attracting users.
Don't Be Overly Sales-y
Sam suggests to avoid being overly 'sales-y.' "I'm not a customer trying to buy your product or service, so spend your time succinctly introducing yourself and your venture."
Tajha seconds Sam's advice and adds: "Don't tell me how to tell your story – let me figure out the most interesting hook." It's important for entrepreneurs to understand that they will lose control of their story when chatting with a reporter. Rather than micromanaging the storytelling aspect, allow the reporter to write in a way that brings attention to your venture, but also increases their publication's page views and paid subscriptions.
Include Contact Information
Why is there such a natural aversion to phone calls? Include a phone number you can be reached at and make availability a crucial piece of your business plan. Reporters are much more likely to cover your pitch if they can make a quick phone call and get the answers they need sooner rather than later.
Also, include where your venture is physically located! This increases your potential to be featured in local publications, because your venture feels more 'real' and tangible to local audiences.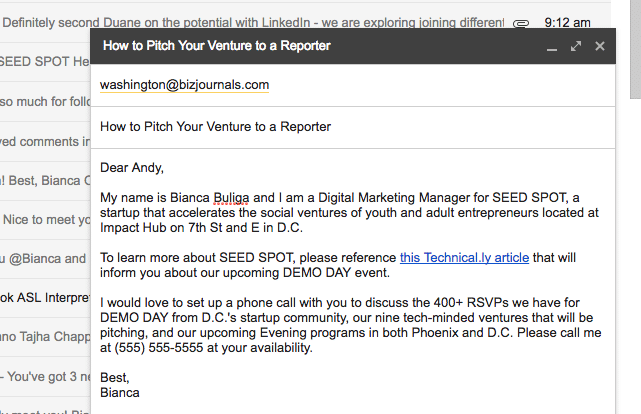 Avoid Going Through PR People
Andy says, "I like working directly with the startup team, then with PR people, and lastly with agencies. The fewer layers I have to go through, the better. I've already formed impressions of most PR people and agencies in the D.C. area, so make sure you're doing due diligence about each entity's reputation."
Sam and Tajha agree completely, mentioning that PR people can act as just another hurdle in getting quick answers for rapidly-approaching deadlines. Leaving an interaction with a founder's direct contact information makes for a stronger lead 100% of the time.
One pro of working with a PR representative? Being able to decide what topics are worth writing about. They have a better sense of the topics that get impressions, clicks, and leads. Feel free to consult with a highly-esteemed PR person to brainstorm the most engaging way to pitch your venture!
Follow Up
Tajha's response: "Following up with a second email won't make me mad." Many reporters may accidentally gloss over your initial email or completely forget about it. It's completely fine to send a second email a week later as a friendly reminder. Anything more may be construed as overwhelming, and can seriously deter reporters from responding.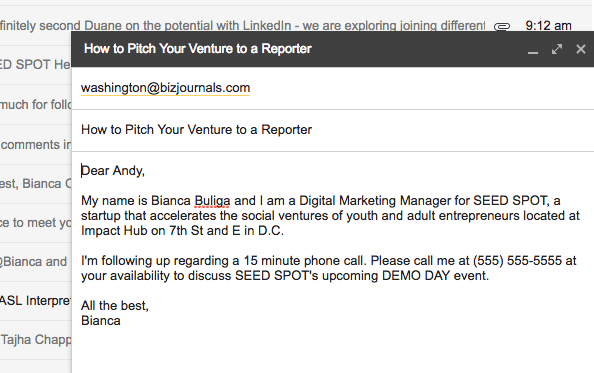 At the end of the day, pitching your venture to a reporter isn't radically different from pitching to a crowd of potential investors – you still want to be professional, concise, and to the point. However, reporters can provide you with a tool that most investors can't – the spotlight in front of thousands of interested readers who are oftentimes PAYING to read about you. Tap into this resource and let us know how it goes!
Start your entrepreneurial journey today.
---
Related articles about SEED SPOT Communities:
>>"3 Ways to Build an Impact-Driven Entrepreneurial Ecosystem"
>>"5 Ways to Make Your Business Pitch Perfect"
>>"How to Choose the Best Software Development Solution for Your Business"