By: Colleen Dyble, Vita Global, Inc. Founder
"The B Corp movement is one of the most important of our lifetime, built on the simple fact that business impacts and serves more than just shareholders—it has an equal responsibility to the community and to the planet." – Rose Marcario, CEO of Patagonia
Global business trends show that there is a shift from maximizing short-term shareholder value to one focused on maximizing long-term shared value. A survey conducted by Cone Communications found that 74% of employees say their job is more fulfilling when they are provided with opportunities to make a positive impact on social and environmental issues. In fact, most respondents would even take a pay cut to work for a socially-responsible company that aligns with their values.
A new kind of company, a Certified Benefit Corporations® ("B Corp®"), that uses the power of business to solve social and environmental problems worldwide is entering into this socially conscious environment. A B Corp® is a for-profit company certified by the nonprofit B Lab® to meet rigorous standards of social and environmental performance, accountability, and transparency.
I introduced the idea of Vita Global, Inc. becoming a certified B Corporation® which resulted in a team of students at Thunderbird School of Global Management that we were mentoring through Net Impact to draft a proposal outlining why Vita Global should become a B Corp®.
Shortly thereafter, Vita Global's Co-Founder Portland Reed's research about B Corps® led her to an article about them as well as SEED SPOT's efforts to help entrepreneurs who are creating solutions to social problems with their businesses through state legislation.
Simon Sinek, a prominent motivational speaker says, "People don't buy what you do; they buy why you do it. And what you do simply proves what you believe." This summarizes why becoming a certified B Corporation® was the perfect decision for Vita Global.
Companies have to respond to this in order to stay competitive and differentiate themselves in the marketplace. We believe that part of a company's ability to make money is tied to how they treat the people that work for them and how they give back to their community.
Is your company positioned for this new reality?
We are excited to share our experiences to help guide you through this life-changing process of becoming a B Corp® – let us help you take this pivotal next step in your company's growth!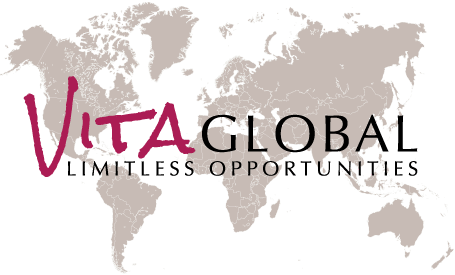 Why are Certified Benefit Corporations® important?
They serve an important function of providing corporations a way to include profitability while solving society's problems.
For me, becoming a certified B Corporation® further confirms that taking the risk to become an entrepreneur was exactly the right move… It has further fanned the flames behind the WHY of Vita Global and provided me with greater clarity and focus in how I want to make an impact globally.
Becoming a B Corp® is part of my legacy. I want to help shape the next generation of entrepreneurs, particularly women. Entrepreneurs who are in-tune with the deep needs in the world, motivated by a purpose greater than themselves, driven by values, and engaged in using their businesses to collaborate with others to create a better life in the world around them. I am humbled. I feel so lucky to have the opportunity to engage in such life-changing work.
Certified Benefit Corporations® help us tell the difference between a "good company" and just good marketing. Individually, Certified Benefit Corporations® meet the highest standards of verified social and environmental performance, public transparency, and legal accountability, and aspire to use the power of markets to solve social and environmental problems.
"Collectively, B Corps® lead a growing global movement of people using business as a force for good. Through the power of their collective voice, one day all companies will compete to be best for the world, and society will enjoy a more shared and durable prosperity for all." – B Lab®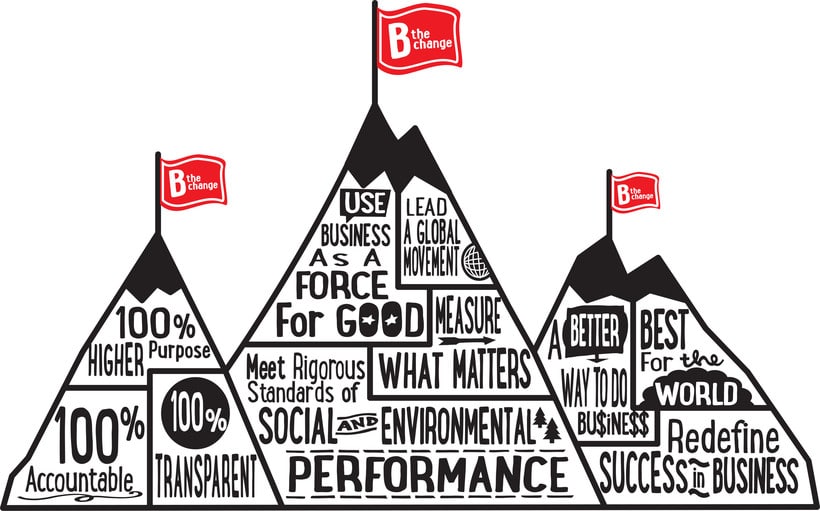 What were the benefits of Vita Global becoming a Certified B Corporation®?
One of the major benefits of becoming a B Corp® is that we now focus our energies on ways to improve society in addition to making a profit. We can now integrate our values and way of being with how we do business.
Here are a few tangible benefits we've experienced since our certification:
We gave more in terms of donation and time, while also increasing revenue. In a crowded marketplace, we were able to differentiate our business by our purpose to become a trusted advisor. Companies were attracted to our values and the causes we supported, resulting in contracts that would have been typically out of reach.
We attracted top Millennial talent from elite educational institutions based on our values to improve the world. They helped transform our internship program and streamlined our communications and digital branding. We increased our reach tenfold!
We hired contractors and treated them like family by assisting with daycare and health benefits. This resulted in engaged workers who went above and beyond to get projects done well.
How do you become a Certified Benefit Corporation®?
The first step is take the free B Impact Assessment.  You become a certified B Corporation® if you achieve a B Ratings score of 80 out of 200. Additionally, you must meet legal standards by amending your Articles of Incorporation to include consideration of stakeholder interests. Before your stress levels skyrocket, take a deep breath and keep reading.
You don't need a lawyer to take next steps. Feel free to reach out to Vita Global, Inc. at colleen@vita-global.com for assistance!
Who certifies Certified Benefit Corporations®?
B Corp® is to business what Fair Trade certification is to coffee or USDA Organic certification is to milk. B Lab® believes at the very core of an entity's purpose is an oath to use business as a force for good, to positively impact the world around them socially, environmentally and economically. This rigorous testing requires all entities to meet higher standards of transparency, accountability and performance of its operations, company culture and corporate decisions. It is the reintegration of humanity within the business model.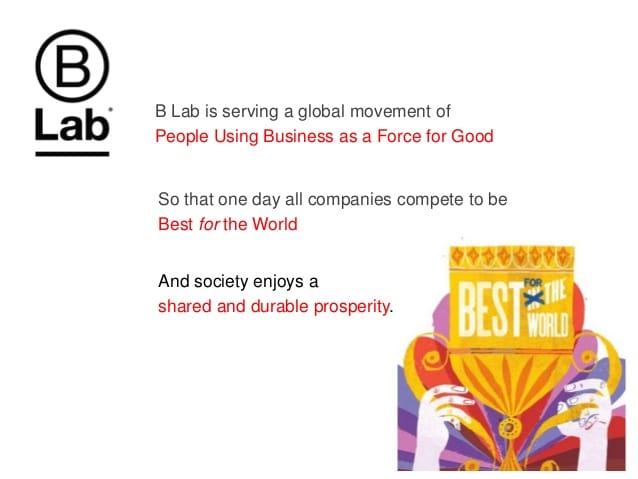 To conclude, Certified Benefit Corporations® amplify the voice of sustainable business and for-profit social enterprises through the power of the unifying B Corporation® brand. Through the power of their collective voice, all companies can contribute towards a more just world that ensures a more shared and durable prosperity for all. No matter what stage of scalability your venture is at, it's never too early to start planning your trajectory. Let Vita Global, Inc. help grow your impact by using business as a force for social good.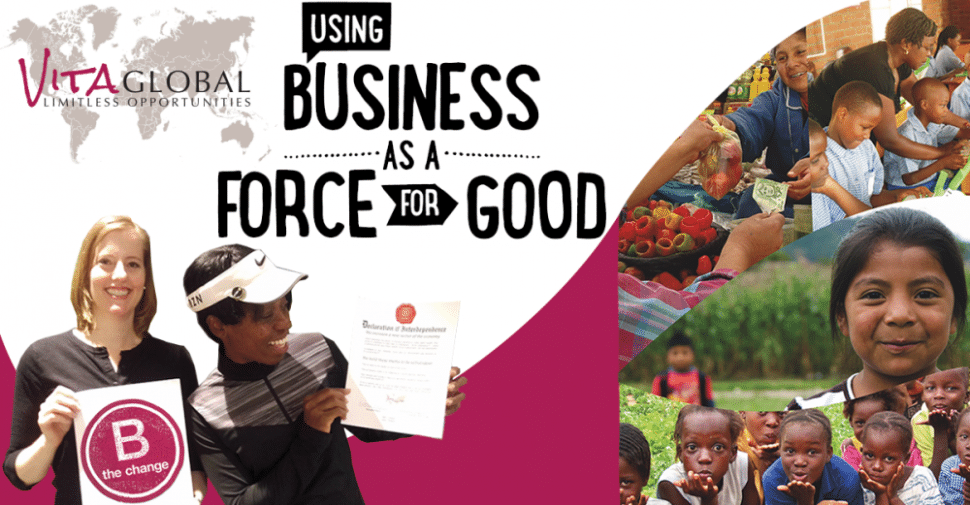 —
Thank you to Colleen Dyble at Vita Global, Inc., for writing this article! Your insight is crucial for launching early-stage social entrepreneurs towards better investment opportunities and a more powerful network for implementing social good. If you are in the Mid-Atlantic region and want to connect with other Certified Benefit Corporations®, sign up for updates from the B Local: Mid Atlantic and attend a future event!
Start your entrepreneurial journey today.
---
Related articles about SEED SPOT Communities:
>>"3 Ways to Build an Impact-Driven Entrepreneurial Ecosystem"
>>"What Your Bank Won't Tell You About Business Credit"