By: Bianca Buliga, Digital Marketing Manager
Jaime Casap, Chief Education Evangelist at Google and SEED SPOT Schools Advisor, is an advocate for educating, training, and supporting the next generation of problem solvers. His philosophy? "Do not ask students what they want to be when they grow up. Ask them what problem they want to solve and what they need to learn to build the knowledge, skills, and abilities to solve that problem."
For the past year, students from all over the country have been formulating solutions to some of the world's most pressing issues. They've been rapidly prototyping solutions, iterating through customer feedback, launching a go-to-market strategy, and defining scalable business models with the help of their teachers and SEED SPOT mentors. The end goal? Pitching at High School Demo Day on Tuesday, May 15th at the Herberger Theater in downtown Phoenix (RSVP here).
But first, student teams needed to jump the hurdle of qualifying for Semi-Finals on Tuesday, April 17th at Galvanize Phoenix. We had an unprecedented 80 applications get submitted from across the nation to compete for only 36 Semi-Finals spots. Applications were scored by a panel of judges based on their completed pitch decks, pitch videos, and branding materials created for their ventures. The 36 teams with the most innovative solutions are listed below:
Kilo Automotive: Reydan Freitas, Christine Andres, and Colby Cox
Grammar Ready: Trevor Diep, Garred Keller, Ben King, and Tanner Lattie
MedEssential: Rhaminah Muniz
Emission Tech: Alex Divito, Jackson Gray, and Jake Kobert
Wing Bands: Madi Jo Porter, Seth Mazza, Madison Piper, Tyler Von Ende, and Ben King
Stable Top: Christine Andres, Colby Cox, Stone Hunter, Leilani Lam, Cole Maxey, and Cole Warren
ZooTech: Alexander Gonzalez, Leilani Lam, Antonio Zuniga, and Michael Cockerham
Respect for the Flag: Elijah Graham and Courtney Ruhter
LexAl: Alejandro Urbina
Racial ED: Somei Stewart, Jansen Javier, and Carlos Aguayo
Mobile Foods: Taionna Latimore, Sahra Hussen, and Brianna Erwin
Reset Press On: Samantha Zazueta and Kamlyn Reed Warren
Forever Mine: Kaitlyn Coulter and Seth Villeescaz
Communitree: Raina Romero, Paloma Martinez, and Anna Brunson
X-Out Suicide: Lizbeth Bernal, Fernanda Veelazquez, and Michael Turay
Life Prep: Axel Rocha, Grecia Rodriguez, Frank Garcia, Xavier Romero, and David Diaz
Life Watch: Melissa Carillo, Jaqueline Ibarra, Jhoanna Olivares, and Frank Carbajal
First Lives: Zitlaly Tapia, Roxana Figueroa, and Brian Martinez
WANDA: Jose Perez, Jose Payan, Luz Bermudez, and Yahir Chavez
Triple Valve: Nicholas Miele and Juan Samaniego
Electric Portable Charger: Kenny Green and Tyler Garcia
Sprout: Jonathan Horton, Esperanza Paredes, Alfred Swen, and Robert Sunne
Abuse Out Loud: Brandy Green, Chloe Keyack, and Jared Middlebrook
Pup Cup: Porter Crandall, Emily Smith, and Tatum Skogebo
REFU Resource: Grace Morse and Brianna Cavasos
New Beginning: Paloma Corral, Melissa Vargas, and Brianna Zurfluh
Trak: Taylor Mohr, Dennis Cloud, Natalie Mendoza, Ben Maloney, and Sammy Delfino
Seed Pop: Alek Simpson, Ahmad Mujahed, Gabriel Cordova, Aidan Boere, and Jude Jeffries
Soteria: Hannah Smith, Remington Meyers, Mason Pio, Magan Maxamad, Monique Parker, and Auhsten Reynor
iBluelight: Alonzo Eley, Aziah Newcombe, Saafir Smelley-Griggs, and Elijah Farrell
DeerNJ: Shugar Hall, Shauntel Grundy, Jibril Outland, Nicole Williams, and Alia Harris
Kast: Kiana Shell, Sacoiyah Holmes, Tyrese Parham, and Amani Muhammad
Recaf: Brianna Munoz, Edgar Diaz, Andrick Coronel, Iran Paez, and Karla Bravo
Visiting the Past: Gabriela Morales, Alma Escamilla, Jessica Lozoya, and Brenda Saenz
TechTrade: Sirfraz Shah, Quinten Argiropoulous, and Nicholas Hulston
Plas-Tech: Alex Cowan, Ben Kort, Jake Longini, and Henry Learner
Congratulations to these 36 teams for their hard work, their ability to think outside the box, and their commitment to making their communities a better place. To the teams who didn't advance to Semi-Finals, we are still so proud of your willingness to #DreamBig. We hope you continue working on your venture and apply again next year. The world needs more creators and founders who have your relentless spirit!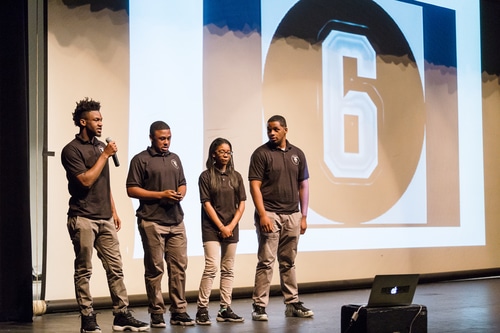 A quick note about Semi-Finals: student teams will meet at Galvanize Phoenix at 5pm. Students, teachers, and chaperones are responsible for their own transportation and parking, so please plan accordingly and drive safely. From 6-8pm in various break-out rooms, ventures will have just three minutes to pitch using their pitch decks and two minutes to answer questions from their panel of judges. While students can expect light snacks, they should pack their own water, snacks, and dinner (especially if they have dietary restrictions).
On Wednesday, April 18th (the day after Semi-Finals), the top 15 Finalists for Demo Day will be announced via email and on the SEED SPOT Schools website. Selected Finalists will be pitching their ventures at the Herberger Theater on Tuesday, May 15th for a chance to win cash prizes. This event is open to ALL community members – you are formally invited to cheer students on, give them lots of high-fives, and get inspired by their unbelievable ideas for sustainable change. Space is limited, so reserve your ticket here and spread the word!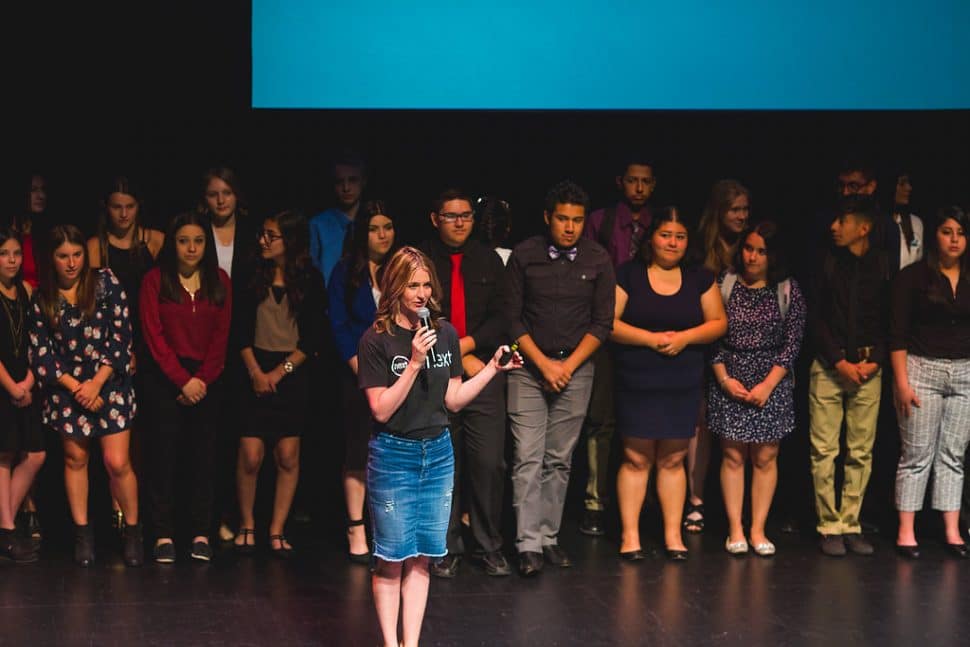 Your students could be pitching at High School Demo Day next year! 
Bring SEED SPOT to Your School
---
Related articles about SEED SPOT Schools:
>>"3 Ways to Bring Entrepreneurship into the Classroom"
>>"High School Demo Day: Where Students Create a Better World"