By: Lo Kidd, Marketing Intern
Did you know that 72 percent of high school students have considered starting a business, but the vast majority are never offered an entrepreneurship course in school? These young people are our most underutilized creative resource – if we can successfully engage their talents, we'll unlock innovative solutions to the world's most pressing problems.
Here are just three of the many reasons why your school should teach entrepreneurship curriculum in the upcoming 2018-2019 school year:
1. Increase Student Engagement by Engaging Their Passions
Before becoming a neuroscientist, Mary Helen Immordino-Yang was a seventh-grade teacher at a school outside Boston. During her time as an educator, she found that emotions are essential to learning. Put simply, "it is literally neurobiologically impossible to think deeply about things you don't care about."
A team of youth entrepreneurs from MET Professional Academy in Peoria, AZ, witnessed a wheelchair-bound classmate struggle with transitioning from their wheelchair to their desk several times per day. This is a strenuous task to complete, leaving their classmate feeling defeated, humiliated, and exhausted. In response, the MET students designed the Stable Top, a portable and lightweight wheelchair desk that provides a comfortable and functional workspace for their classmate and other students with disabilities.
Entrepreneurship empowers students to identify social problems affecting their peers, their campus, and the community at large in order to create innovative solutions that can positively impact people's lives. They engage in customer discovery and market analysis, develop a prototype, and then iterate on their ideas until there is aligned product-market fit. When students form an emotional connection to the curriculum, their engagement increases exponentially.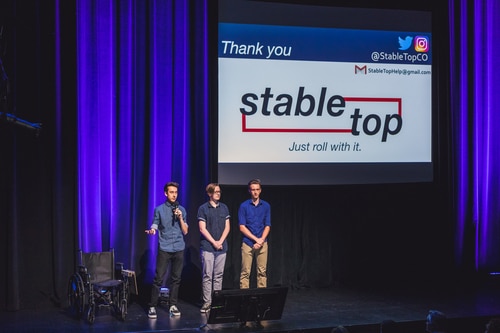 2. To Prepare Students For the Future Workplace
Avi Goldfarb, coauthor of "Prediction Machines: The Simple Economics of Artificial Intelligence" says that the most valuable combination of skills for the future workforce is: "good training in computer science, knowing how machines work, and understanding the needs of society".
To prepare students for high-tech jobs that may not exist yet, the SEED SPOT Schools curriculum integrates transferrable 21st century skills like STEM, design thinking, and entrepreneurship. Most student teams develop tech-enabled "Internet of Things" (IoT) solutions that involve building a website, coding, and conducting thorough data analysis.
Beyond honing their technology skills, students are challenged to align their solutions to the United Nations Sustainable Development Goals, a collection of 17 global goals solving social and economic development issues like poverty, hunger, and gender equality, among others. SEED SPOT youth alum, REFUresource, was recently recognized by the UN Foundation for their work solving Goal 8 by empowering and employing refugees relocated in the United States.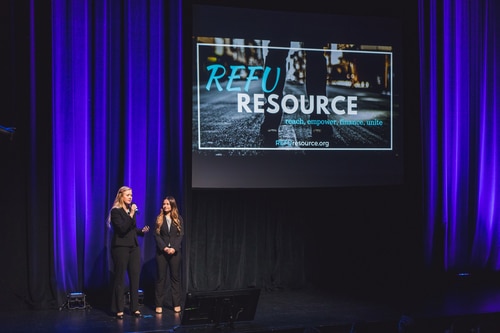 By combining Generation Z's "digital native" aptitude with global awareness, students can navigate the classroom, community, and workplace with heightened empathy and professionalism. They can stand confidently on the big stage at SEED SPOT's National High School Demo Day, pitching their cutting-edge market-based solution in front of hundreds of audience members for the opportunity to win in-kind and cash prizes from industry thought leaders.
3. To Make Your Community a Better Place
Entrepreneurs are the backbone of American society – they drive innovation, job creation, and national economic growth. In fact, new businesses account for nearly all net new jobs created and almost 20 percent of gross job creation. Entrepreneurship transforms your community into a more attractive place to work, live, and thrive. Why wouldn't you want to give young people in your community the tools to lead the transformation?
"In order to ensure communities have a pipeline of their next leaders and job creators, we must teach entrepreneurship in schools – especially from a social perspective", says Peter Boyle, Founding School Director at partner school Western School of Science and Technology. "By positioning students as future (or current!) entrepreneurs, we are building their sense of self-efficacy and giving them a head start to be the next generation of job creators and community strengtheners as adults."
After learning that there are 10,000 homeless people in Pima and Maricopa County, a group of students from Walden Grove High School in Sahuarita, AZ created Mobile Rain. They installed a mobile shower into a renovated school bus that allows homeless individuals to shower, get their clothing laundered, and gain confidence to interview for work. Their compassionate and creative idea earned them a $5,000 award from Cisco to continue growing their business.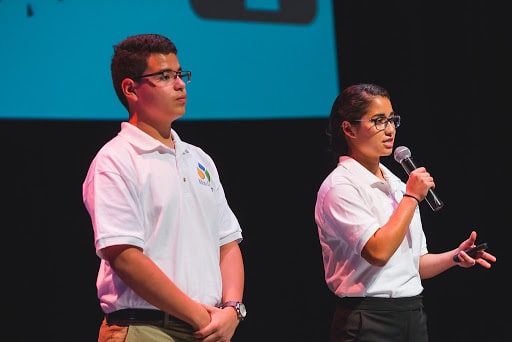 Mobile Rain is just one of many examples of young innovators collaborating and finding feasible solutions to widespread social problems they see everyday in their community. They no longer feel comfortable standing idly by as these issues worsen – they feel compelled to take ownership and become active agents of change. Within a year of entrepreneurship curriculum, students can become founders, co-founders, or even CEOs of a functional business! But what matters more is their enhanced professionalism, public speaking ability, critical thinking skills, and newfound confidence to make an impact in the classroom and beyond.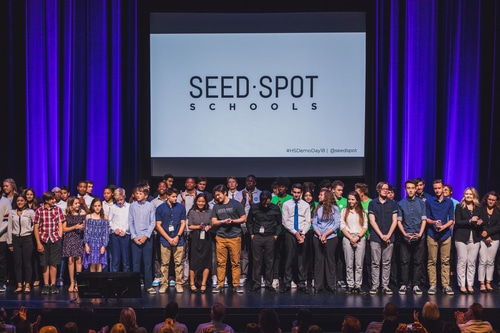 As the 2018-2019 school year kicks off, SEED SPOT makes it easier to get in the "back to school" groove by providing educators with a wide range of on-the-ground support. Teachers receive biannual in-person training, comprehensive lessons plans, professional development opportunities, and accessible support from our Schools team. Together, we can work to inspire, empower, and transform students into fearless leaders of the future!
[sc name="Email Signup – Ebook"]
---
Related articles about SEED SPOT Schools:
>>"At Teacher Training, SEED SPOT Teachers Create Their Own Ventures"
>>"3 Ways to Bring Entrepreneurship into the Classroom"
>>"Director of School Expansion Hired to Elevate Voices of Youth Entrepreneurs"