By: Josh Kaplan, Co-Founder of BrailleBoard, Founder & President of GOALS, and Alum of SEED SPOT Schools
When I was fifteen years old, I made a bucket list.
Learn to drive. Go skydiving. Travel to every continent. Get a scholarship to attend college outside of Arizona. My bucket list became crazier — perhaps more unrealistic — with each item I added. As I finished, I made sure to add a final dream, one I wasn't sure would ever come true.
It was speaking at the United Nations.
I had always thought being invited to speak at the United Nations was the epitome of success. No other organization had the capacity to bring together the world's most important, intelligent, and inspiring thought leaders. I had never visited the United Nations, but I knew that one day, I would become enough of an expert on something — in truth, it didn't matter what, because I had no idea what I wanted to study in college — to speak at the United Nations.
I didn't expect that day to come only four years later.
When SEED SPOT reached out to me and shared the opportunity to sit on a panel at the United Nations DPI-NGO Conference in New York City, I was ecstatic. This year's theme was "Together Finding Global Solutions for Global Problems" — the conference brought together thousands of community leaders from over 80 different countries, along with senior United Nations officials. Though many of the panels focused on mobilizing corporations and nonprofit organizations to drive change in their communities, the conference had a distinctly youth-oriented direction. The purpose was to foster intergenerational conversations about issues facing youth including climate change, gun violence, human rights abuses, and employability.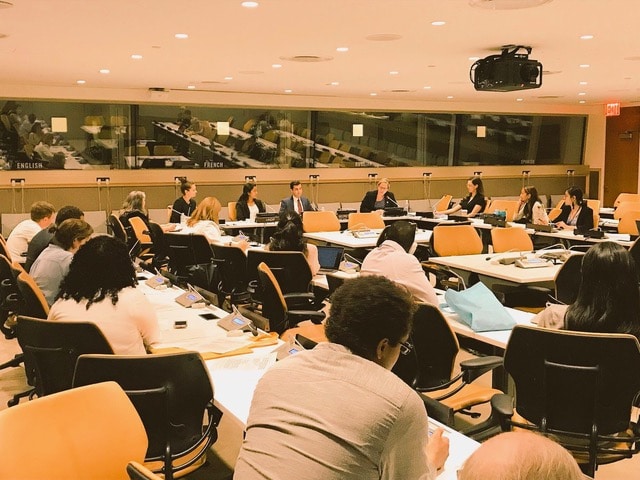 My panel, "Empowering Youth Action for the Global Goals", was one of the panels to feature youth voices. I spoke alongside two other young people about the challenges that youth face in our rapidly-developing workforce. We discussed how corporations and nonprofits alike can leverage the power and influence of youth to drive change in their own organizations and communities. I was thrilled to be speaking about youth issues — who else is better poised to talk about young people than young people themselves?
I spoke a lot about how the private sector can engage and mobilize young people, about the consumer capital of Generation Z, and how much of our purchasing decisions rely on an organization's social responsibility. I touched on how youth are opportunities for investment, much like stock portfolios or physical infrastructure — the only way to empower us to change the world is to equip us with transferable skills (not automation and repetition) applicable to the increasingly digital workforce.
This idea of investing in others so that they invest in their communities lies at the core of SEED SPOT's impact model. I still vividly remember my semester-long high school social entrepreneurship course, though it was almost four years ago — studying issues that affected our global, national, and local communities, and brainstorming solutions to combat each.
Regardless of the problem or crisis, SEED SPOT Schools emphasized that the real drivers of change were youth. Young people are not just the next generation — we are the largest generation (over half of the world's population is under the age of 30!), and much of the responsibility for creating a better world falls on us. But cultivating a generation of thoughtful, engaged civic leaders, whose thoughts and actions are driven by the SDGs, requires us to start introducing social issues at a much younger age.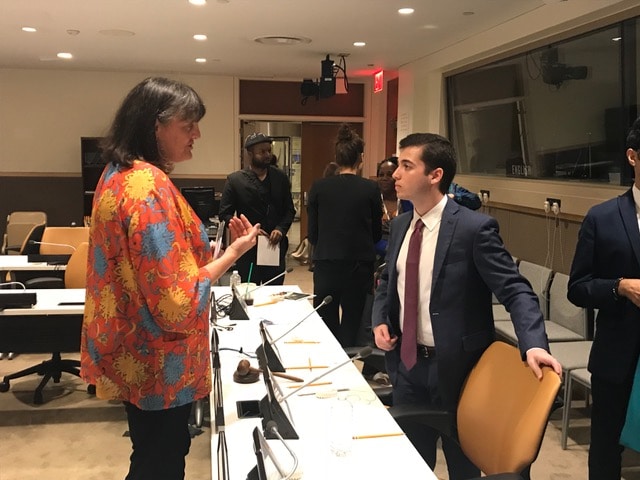 Speaking at the United Nations allowed me to share how empowering my experiences with SEED SPOT Schools were — how I discovered that I too was an agent of change, though I wasn't even a legal adult. And hundreds of nonprofit and private sector leaders were just as inspired by my stories as I was by living them. At least ten different adults approached me after the panel had ended, asking deep questions about how to continue engaging young people in their social missions. I realized then how excited adults were to engage with young people — I used to think being a young change maker was an isolating experience.
But maybe I hadn't met the right people yet. SEED SPOT Schools was the first time I encountered an adult who said, "Yes, your perspectives and ideas are valid". But this panel was the second, and I walked away feeling inspired and motivated to encourage young people to use their voices and speak out.
Because who knows — maybe the next platform to share your experiences will be the United Nations, too.
[sc name="Email Signup – Ebook"]
---
Related articles about SEED SPOT Schools:
>>"Press Release: SEED SPOT and the Georgia Vision Project Partner to Prepare Students for Future Workforce"
>>"3 Reasons Why Your School Should Teach Entrepreneurship Curriculum"
>>"At Teacher Training, SEED SPOT Teachers Create Their Own Ventures"