By: Bianca Buliga, Digital Marketing Manager
Imagine having 15 minutes to gather your most prized possessions, stuff them into a trash bag, and never being allowed to return – only to be dropped off at a complete stranger's house you're now expected to call 'home.' This is the reality for 438,000 children across the United States being shuffled from foster home to foster home on any given day. In 2016 alone, an estimated 687,000 children spent time in the foster care system. This is Kaitlyn Coulter's story.
Having grown up in a foster home, Kaitlyn was used to kids coming and going all the time. Many of them were babies that showed up with little to nothing, not even formula or diapers. Kaitlyn was lucky enough to find a forever family and was adopted, becoming one of six siblings (five of which are adopted foster kids). Not all foster youth find their forever family – a fact that was not lost on Kaitlyn her senior year at City High School in Tucson, Arizona when she participated in SEED SPOT Schools.
Her teacher, Krista Gypton, encouraged the class to identify social issues they felt a strong personal connection to. By analyzing the root causes of these issues, Kaitlyn and her classmates were empowered to develop innovative, market-based solutions. Kaitlyn knew immediately that she wanted to give foster kids a sense of belonging, but wasn't sure how. By interviewing many employees of the foster care system, Kaitlyn was able to home in on her proposed solution.
"There's a lot of disrespect shown to kids in the foster care system. They're treated so poorly and are sometimes made to carry their belongings in trash bags while moving from one foster home to another. Trash bags make you feel like trash, and I wanted them to know that no matter what happens, they're not trash." – Kaitlyn Coulter, co-founder of Forever Mine
Kaitlyn and her friend, Seth Villeescaz, decided to co-create Forever Mine, a handmade bag for foster kids to store their memories. The bag was designed as a safe space that can be transported easily from space to space for the unpredictable lifestyles many foster youth experience. Each bag contains handwritten letters from other foster kids giving tips on how to survive the system, remember their worth, and feel part of a supportive community.
Throughout the school year, Kaitlyn and Seth continued growing their idea by conducting market research and interviewing various stakeholders. By spring, they submitted an application to pitch Forever Mine at the SEED SPOT Schools National Demo Day, an opportunity to compete against other student problem solvers from across the nation for a chance to win cash prizes. Out of 80 nationwide applicants, Forever Mine was one of 17 selected to take the big stage!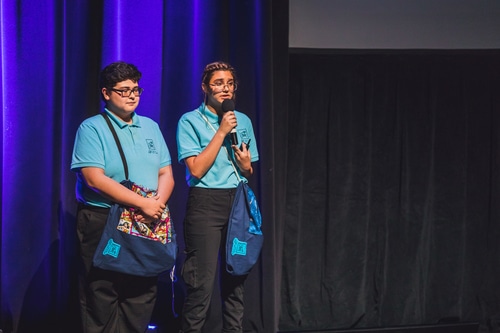 "I'm an overthinker and had a hard time presenting the idea clearly. Seth and I had to practice a lot, get over our fears of public speaking, and learn how to present Forever Mine in a meaningful and succinct way. Demo Day was nerve-wracking, but the entire experience was so great!"  – Kaitlyn Coulter, co-founder of Forever Mine
The hours of practice and preparation paid off – Kaitlyn and Seth won the $1,000 Judges Choice Award, a prize that recognizes a student team's innovation, drive, and commitment to impact. By pitching at Demo Day, Kaitlyn and Seth gained the opportunity to receive mentorship, partner with new stakeholders, and win money to advance their mission. Since Demo Day, nearly 50 Forever Mine bags have been distributed to foster kids in need.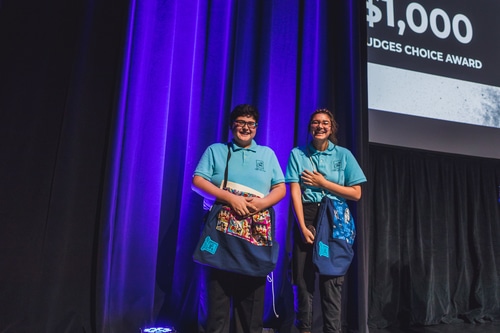 Kaitlyn currently works at an after school camp and is applying to college (fingers crossed for Boston University!) to study Marine Biology and Ocean Conservation. Her dream is to start a business dedicated to protecting marine life and their ocean home.
"I want to keep a business mindset when it comes to making a change. It's always applicable – you have a problem to solve and then you can solve it. It's real life skills. Now I know how to make that difference. I don't have to wait for anyone else to make that change – I can do it myself and get it done now. SEED SPOT made that happen." – Kaitlyn Coulter, co-founder of Forever Mine
The SEED SPOT Schools curriculum merges STEM, entrepreneurship, and design thinking to walk students through idea creation, validation, evolution, and launch. SEED SPOT equips students with the 21st century skills to become proactive leaders of the future, global workplace. Through three distinct programs, the SEED SPOT team has empowered 1,776 youth entrepreneurs at 28 schools and youth-focused organizations. By each program's end, 86 percent of students feel confident in their abilities to solve pressing social problems.
"Future SEED SPOT students: trust the process. Sometimes the packets are long and repetitive, but you learn something new every time. Don't be afraid of presenting and don't be afraid of your ideas. For me, bringing up an idea that isn't fully thought out is terrifying. But being able to spit ball on an idea can fully form it and make it go far. Be brave and don't be afraid to express what you're thinking. Dive right in. The more you get into it, the better your results will be and the more you grow as a person." – Kaitlyn Coulter, co-founder of Forever Mine
You can watch Forever Mine's award-winning Demo Day pitch here. To learn more about SEED SPOT Schools and how to spur your students' entrepreneurial creativity, fill out a quick application here.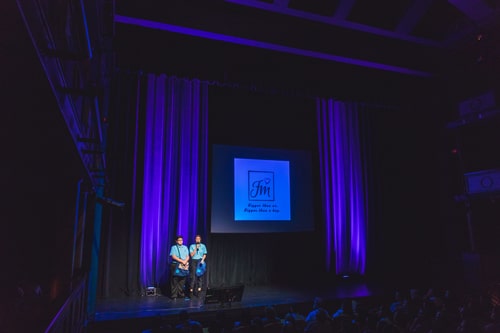 P.S. By donating $500 and joining the SEED SPOT 500 during the month of December, you are actually donating $1,500 because of our 2:1 match! Big thank you to SEED SPOT alum, Proctorio, and our Board of Directors for TRIPLING our impact this holiday season.
---
Related articles from SEED SPOT:
>>"Breaking News: SEED SPOT Board Announces Matching Donations"
>>"How to Measure Meaningful Social Impact"
>>"6 Years of Impact-Driven Entrepreneurship: SEED SPOT's Annual Impact Report"