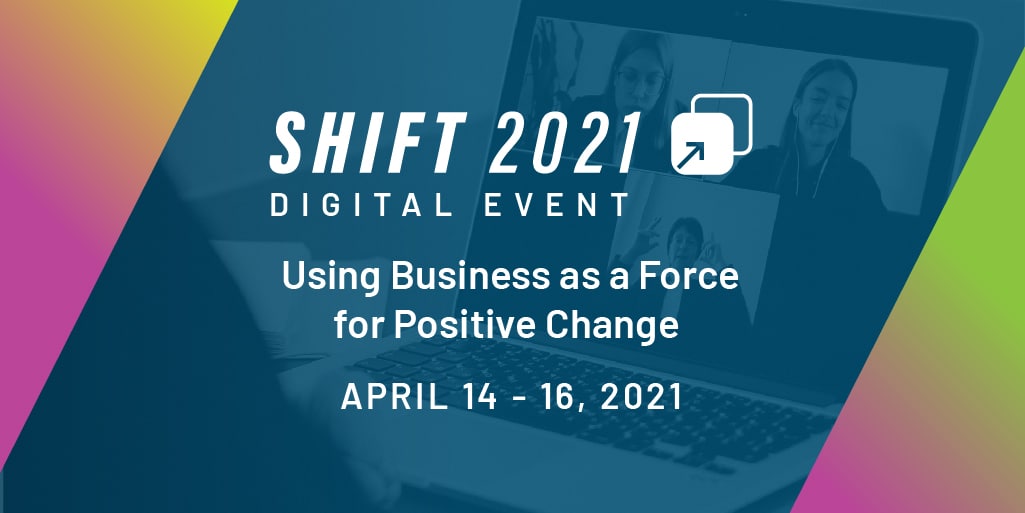 Join other conscious business leaders April 14 - 16 to solve our current challenges
Shift 2021 is Coming, April 14-16
Shift 2021 is an exciting new digital event from some of the most passionate organizations and thought leaders in the positive impact space. Shift 2021 is a uniquely collaborative event—for and by conscious business leaders, and anyone wanting to support and grow the impact ecosystem.
Over three days, Shift 2021 will cover personal development (shifting within), business development (shifting the way we do business), and overall systems change (shifting the industry) through dynamic talks and action-oriented workshops, plus there will be invaluable networking opportunities.
About the Equity Pass program
In order to increase accessibility and do their small part in leveling the playing field for entrepreneurs, the Shift Conference is inviting Black, Indigenous and people of color, trans and gender non-conforming people, people with disabilities, LGBTQ+ people, people who live on a low or fixed income, and people with intersectional marginalized identities to apply for an Equity Pass. The Shift Conference will also have limited Equity Passes available for people who don't hold these identities, but who are facing financial barriers to purchasing a pass at full rate.
Equity Passes will be discounted by 70% or more and will range from $30-$90 for a full conference pass, depending on when they are purchased and the discount amount.
For more information please contact shift@jbmediagroupllc.com
SEED SPOT, a business accelerator for diverse impact-driven entrepreneurs, is a proud partner of Shift 2021 and their commitment to equity.
In 2019, SEED SPOT was ranked as a top 5 private business accelerator and most promising for social impact by UBI Global at the World Incubation Summit in Doha, Qatar. SEED SPOT supports entrepreneurs through programs, such as webinars, 2-Day Launch Camps, Pivot Camps, and the Impact Accelerator.
SEED SPOT has served 1848 entrepreneurs since 2012 who have raised $79.2M in capital, generated $161.8M in revenue, created 3,217 new jobs, and impacted the lives of 10.2M people with their products, services, and technologies.
SEED SPOT also won a 2016 Emmy for their partnership with Univision supporting Latino entrepreneurs through Véndeme tu Sueño. With a mission to educate, accelerate, and invest in the dreams of social entrepreneurs, SEED SPOT supports entrepreneurs building products, services, and technologies that improve lives or communities.
Join the SEED SPOT mailing list to find out about PROGRAMS FOR ENTREPRENEURS