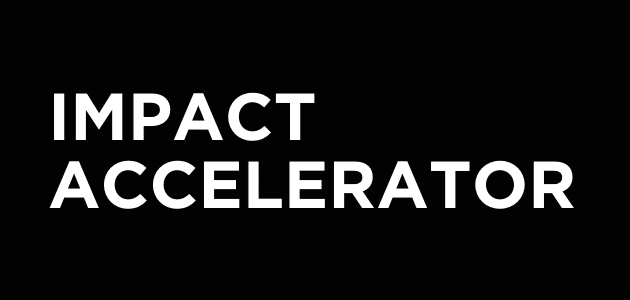 Reimagine your venture's potential for impact
Apply for SEED SPOT's Impact Accelerator - an 8-week interactive program that provides expert training, quick-start tools, and personalized coaching to make big leaps of growth in a short time! Gain access to a network of accomplished industry leaders, fellow impact-driven entrepreneurs, and a lifetime of alumni benefits for continued support even after the program ends.
August 1 - September 23rd, 2022 (Virtual)
Applications are now open! Apply by July 15th
COST: $1,999 per team, partial scholarships available
"We made a lot of progress during the program: significantly improved our narrative, identified additional revenue streams, connected with advisors and potential investors, and evolved our pitch. I learned a lot from the other participants, as well."
- Impact Accelerator Participant
WEEK 1: Foundations
WEEK 2: Discovery
WEEK 3: Prototyping
WEEK 4: Ecosystem
WEEK 5: Budget & Sales
WEEK 6: Communication & Impact
WEEK 7: The Ask
WEEK 8: Making the Leap!
Group training sessions on Mondays & Wednesdays 12:30-2:00pm ET
Weekly pitch coaching with mentors and investors
Weekly mentorship on your business
Office hours with industry experts
Independent assignments for business growth
Eight weeks of personalized business coaching and support
Accelerate your progress toward sales and revenue goals
Develop a strategic growth plan with experts
Work 1:1 with dedicated mentors who believe in your mission
Fine-tune your fundraising strategy with guidance from investors
Join a community of diverse founders committed to social impact
Receive lifetime Alumni Program benefits such as mentorship, funding resources, and legal support


Does my business need to be currently earning revenue to participate?
It depends on your business; some ventures take years to earn revenue, even with thousands of users! You should have a working, sellable product or service by the time the program starts.
I'm a part-time entrepreneur. Can I participate?
Absolutely! There are times each Monday and Wednesday where you'll need to be live and present for our virtual sessions, so be sure your work schedule can accommodate those. You should also anticipate 10-15 hours outside of sessions per week to work on program assignments within your venture.
Will I receive funding during the program?
No, there is no funding directly associated with the Impact Accelerator. This program will help you earn more revenue and be a better candidate for venture funding. As an alumnus, you'll be qualified to apply for the annual Demo Day competition, with thousands of dollars in grants up for grabs.
Who will be assigned as my mentor?
During your onboarding you'll share your goals, working style, and mentor preferences with SEED SPOT. We'll use that information to match-make you with someone from our network.
Do you accept nonprofit ventures?
Yes! About 20% of participants are nonprofit ventures, and we have a tailored version of the curriculum for nonprofits.
Do I have to give venture equity to SEED SPOT to participate?
Nope, hold onto your equity! Rather than take partial ownership in your company, SEED SPOT charges an up-front fee of $1,999 per team or venture. This fee can be divided into payment plans if helpful.
Still Need More Information?
Register for an upcoming workshop to learn more live with a program manager - it's free!
Have some specific questions? Get answers from a team member.