By: Bianca Buliga, Content Curator
Kirk Johnson, SEED SPOT alum and founder of the SOUNDS Academy, is on a mission to provide Phoenix-based kids with opportunities to study, play, and create music. Studies show that music education programs may help students perform better on standardized tests and boost their graduation rates, but Kirk's primary focus isn't on the numbers. "It's simple – music makes everything better. I don't want to be part of a life with no music".
After graduating with his Masters of Arts in Teaching (MAT) in Music Education from Indiana University Bloomington in 2007, Kirk moved to South Phoenix for a position with Teach for America. He quickly realized that Phoenix's music scene was stifling his students' abilities – the few programs that existed were already full. Over the next couple years, Kirk explored different methods of providing kids with access to music education, ranging from one-on-one help to instrument donations to concert field trips.
How Can We Funnel More Kids into Music Programs?
In March of 2014, Teach for America bought Kirk a ticket to Demo Day to see the inaugural class of SEED SPOT pitch their business ideas. Though Kirk had never heard of SEED SPOT before, he remembers thinking "we're gonna do this thing" as he watched Amy Armstrong pitch Support My Club and Brett Heisling pitch BrettApproved. Ironically held at the Phoenix Symphony Hall, Kirk left feeling inspired by Amy and Brett's passion to make an impact in their community.
At the time, Kirk was working with the Small Business Association (SBA), which was coincidentally located in the same building at SEED SPOT. A friend talked him into applying for SEED SPOT, which Kirk found very intimidating and challenging. "I didn't understand the questions. What is your business model? I don't know. B to B to C to B? What? Budget? I didn't have it all listed in an Excel sheet. Business was NOT my background." But with time and practice, Kirk's idea transformed into a promising venture.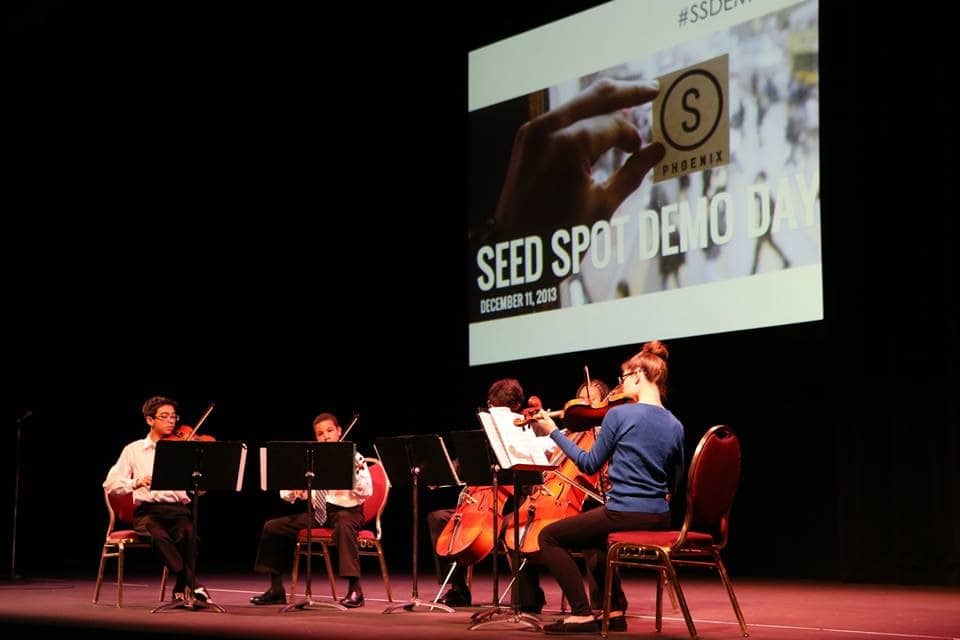 Photo courtesy of SOUNDS Academy
Kids are small but MIGHTY.
Beyond connecting kids with music, Kirk's curriculum emphasizes character values like teamwork, perseverance, and leadership. "Adults underestimate kids and their abilities to be leaders in the community – they are small but MIGHTY." Kirk and his team teach students to be responsible, to take ownership for their actions, and to be professional. "I admire kids who push back and challenge authority. I mess up 30 times a day! Don't let me mess up and create confusion – say something! Don't be a cute kid, be a professional musician."
Since its inception, SOUNDS Academy has already expanded and evolved Phoenix's music ecosystem. Today, SOUNDS Academy is comprised of nine teachers, seven locations, a centrally-located office in downtown Phoenix, 13 Board Members, and 150 students in the strings and community program. Kirk and his team have donated over 140 instruments to kids in their programs, and over 500 students have participated in instrument petting zoos, where kids teach other kids how to play instruments. "It's been a lot of learning… this is how payroll works, that's how taxes work, and this is why you need a centerpiece on the table".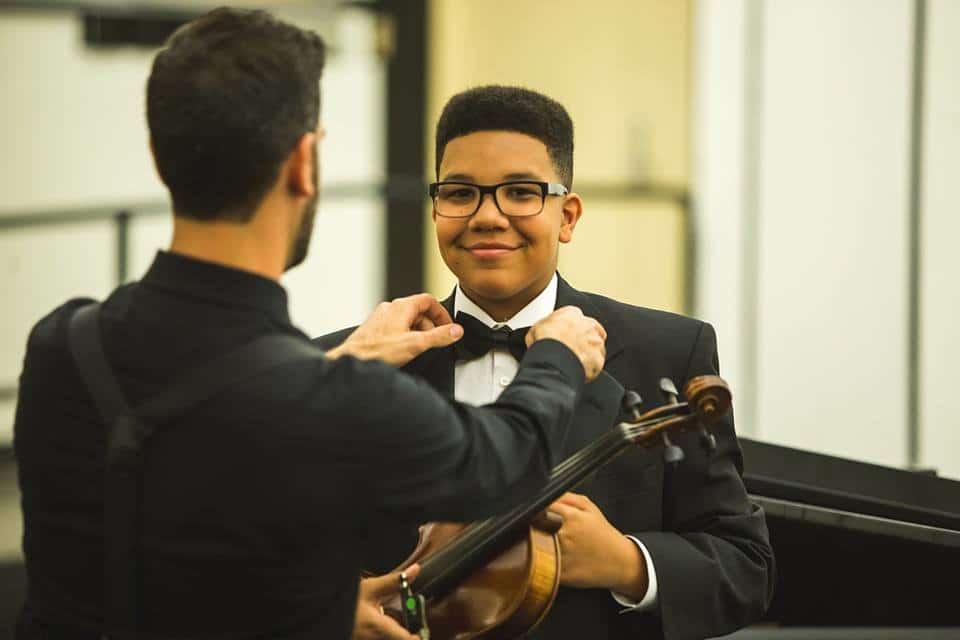 Photo courtesy of SOUNDS Academy
Throughout the learning, Kirk has stayed true to his original purpose. "I see music like a cookie – I used to bake with my aunt sometimes. I'd add the batter, the eggs, the milk, and the chocolate chips, but the cookies would come out flat and tough. My aunt would ask if I had added baking soda, and I hadn't. Just like baking soda was a necessary rising agent for the cookies, the arts are a necessary rising agent for children to become more holistic."
SOUNDS Academy also has a very important rule – if you haven't tried to do something as many times as your age, then don't say you can't do it. "Some people have it embedded that if they try to do something once and don't succeed, then it wasn't meant for them. Can music even be wrong? Dictating the terms of a song is too objective – just be creative and play the lullaby!" For Kirk and his students, the power of interpretation is key.
Giving Students the Skills to Become Community Leaders.
Beyond creativity, the SOUNDS Academy teaches the basics: how to play an instrument, how to put their instruments together, how to stay on beat, and how to follow a conductor. The students must also pass juries, or rigorous playing exams designed to help students feel comfortable playing in front of others and receiving feedback. These pieces are crucial in training students that are ready for college auditions to pursue careers in music performance.
"SEED SPOT was the soil – if I had a bad experience with SEED SPOT, SOUNDS Academy wouldn't have been good. But it was. They gave me the tools I needed, and now it's up to me to sharpen and maintain those tools." Kirk's commitment to keeping his tools sharpened has paid off – the Phoenix Business Journal selected him to be part of the "40 Under 40" class of 2014!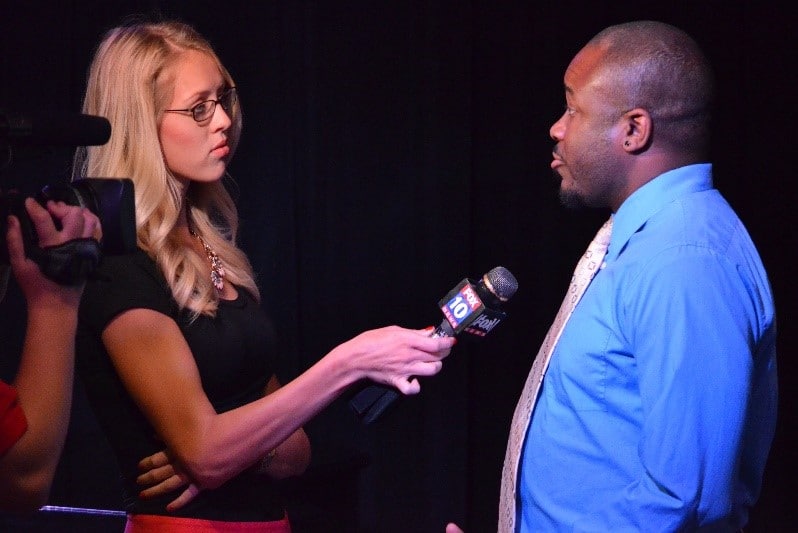 Photo courtesy of SOUNDS Academy
But for Kirk and SOUNDS Academy, this is just the beginning. Next year, Kirk will be focusing on efficiency, starting from the Board Members to his own personal time management. His goals are to spend more time grant-writing in order to reach more students across Phoenix. How will he accomplish that? "Resiliency, problem-solving, creativity, and making it happen!"
To wrap up my time with Kirk, I asked what quote he lives by, to which he responded, "Have you ever watched the third Batman? You know the part when Batman is stuck in the pit and he's told to jump with no rope? That's what I tell the kids all the time. If you take a risk on something and have a back-up plan, that keeps you safe. It makes you live your life differently than someone who thinks 'there's no going back'. In the movie, Batman jumps out, escapes, and saves Gotham City!"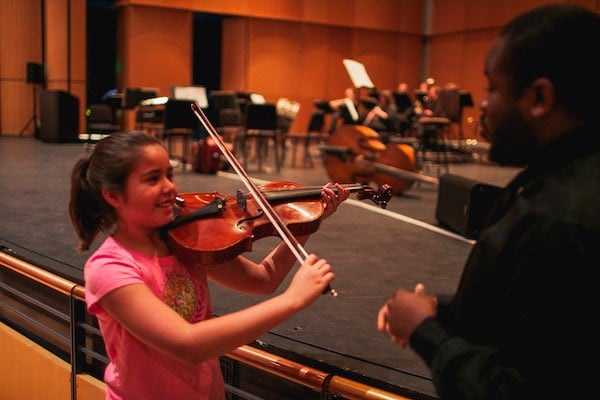 Start your entrepreneurial journey today.
---
Related articles about SEED SPOT Entrepreneurs:
>>"Lisa Morrow: 'It's Okay Not to Have All the Answers"
>>"KYA's Got Your Back: Breaking Down the Barriers Social Media Put Up"