By: Bianca Buliga, Digital Marketing Manager
And just like that, we're one step closer to our culminating Demo Day event on Tuesday, May 15th at the Herberger Theater (RSVP here)! On Tuesday evening, 36 student teams (selected from a competitive pool of 80 teams who applied from all over the country) pitched their innovative business ventures to an audience of 150 supportive community members.
The SEED SPOT Schools team and judging panel was blown away by each team's professionalism, preparation, and commitment to solving pressing social issues. But unfortunately, not all 36 teams are moving on to pitch at Demo Day. Despite previously announcing that only 15 teams would be pitching at Demo Day, our judges were so impressed with the high-quality pitches that we are actually inviting 17 top-performing ventures to our May 15th Demo Day. Here are the 17 Finalists listed in alphabetical order by venture name:
Forever Mine:

Kaitlyn Coulter and Seth Villeescaz

iBluelight:

Alonzo Eley, Aziah Newcombe, Saafir Smelley-Griggs, and Elijah Farrell

Kast:

Kiana Shell, Sacoiyah Holmes, Tyrese Parham, and Amani Muhammad

Kilo Automotive:

Reydan Freitas, Christine Andres, and Colby Cox

LexAI:

Alejandro Urbina

Plas-Tech:

Alex Cowan, Ben Kort, Jake Longini, and Henry Learner

Pup Cup:

Porter Crandall, Emily Smith, and Tatum Skogebo

Racial ED:

Somei Stewart, Jansen Javier, and Carlos Aguayo

Recaf:

Brianna Munoz, Edgar Diaz, Andrick Coronel, Iran Paez, and Karla Bravo

Seed Pop:

Alek Simpson, Ahmad Mujahed, Gabriel Cordova, Aidan Boere, and Jude Jeffries

Sprout:

Jonathan Horton, Esperanza Paredes, Alfred Swen, and Robert Sunne

Stable Top:

Christine Andres, Colby Cox, Stone Hunter, Leilani Lam, Cole Maxey, and Cole Warren

TechTrade:

Sirfraz Shah, Quinten Argiropoulous, and Nicholas Hulston

Trak:

Taylor Mohr, Dennis Cloud, Natalie Mendoza, Ben Maloney, and Sammy Delfino

Triple Valve:

Nicholas Miele and Juan Samaniego

Wing Bands:

Madi Jo Porter, Seth Mazza, Madison Piper, Tyler Von Ende, and Ben King

X-Out Suicide:

Lizbeth Bernal, Fernanda Veelazquez, and Michael Turay
Many congratulations to the Finalists! We are so proud of your commitment to making the world a better place. You remind the SEED SPOT team of why we work with high school students in the first place – because your creativity, work ethic, and innovation give us endless hope for the world of tomorrow. We are honored to mentor and coach the beginning of your entrepreneurial journeys!
A huge SEED SPOT thank you to our judges for taking the time to score pitches, our teachers for encouraging and nurturing each team's entrepreneurial ambitions, and to Galvanize Phoenix for being incredible hosts for our Semi-Finals event! We couldn't have pulled off this process without our tribe of SEED SPOT supporters. Now, let's get ready to award the Finalists with some in-kind and cash prizes at our May 15th Demo Day at the Herberger Theater (it's not too late to snag your ticket here). See you soon!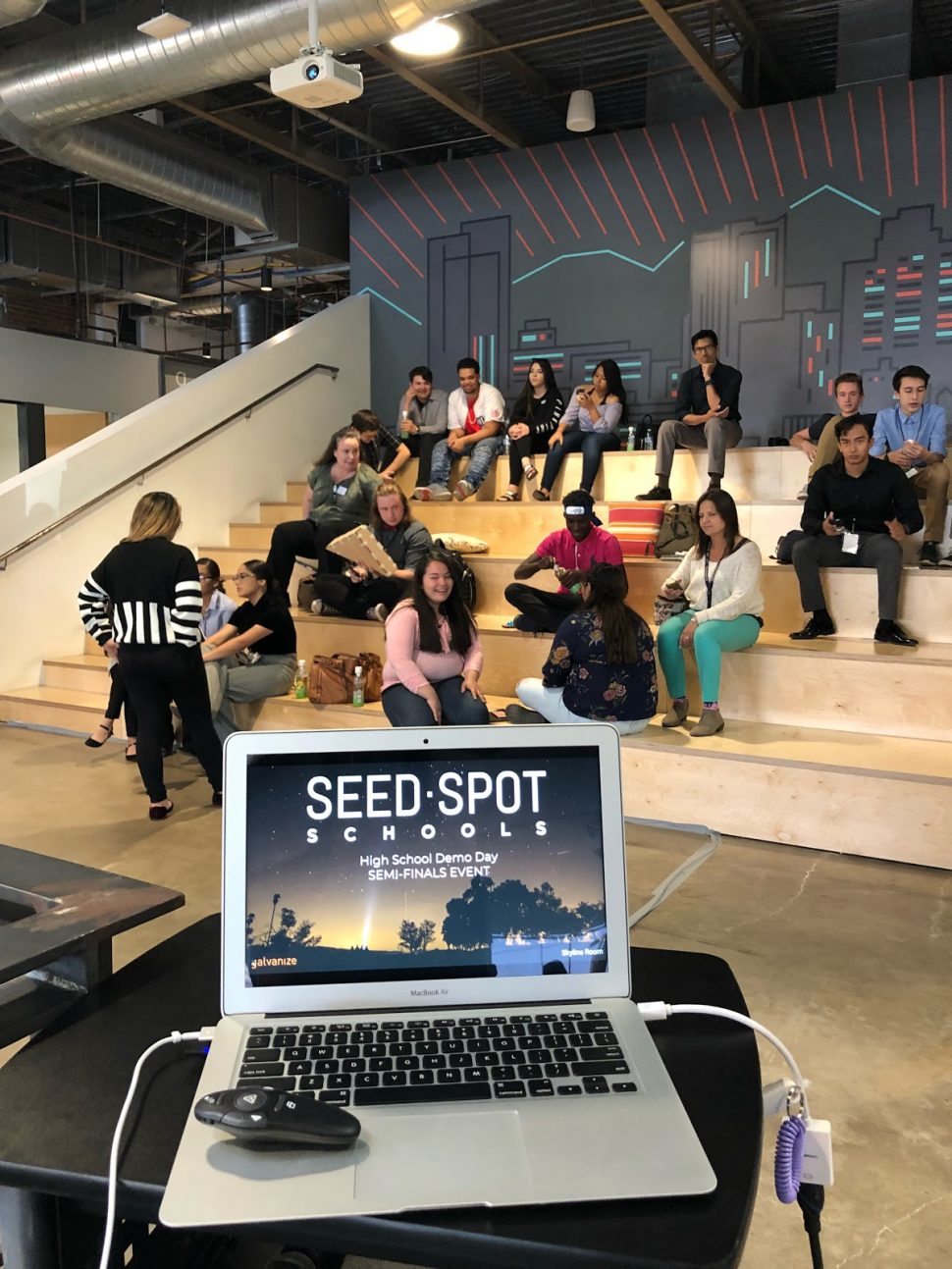 Your students could be pitching at High School Demo Day next year! 
Bring SEED SPOT to Your School
---
Related articles about SEED SPOT Schools:
>>"3 Ways to Bring Entrepreneurship into the Classroom"
>>"80 Student Teams Applied for Semi-Finals, Find Out Which 36 Made the Cut"
>>"High School Demo Day: Where Students Create a Better World"